Since 2002, the Arkansas Supreme Court has traveled around the state twice a year to hold an appeal case in a school to allow Arkansan students the opportunity to see government in action. 
Six months ago, Principal Dr. Edwards met with the organizers of Appeals on Wheels to discuss it being held at the school. On Oct. 10, Appeals on Wheels came to Bryant. 
"Last early spring their office reached out to me and asked if we would be interested in hosting,  and I said 'of course!'" Dr. Edwards said. "I met with  everybody at home on our end who it would take to pull off something like this."
Planning took place all the way up to the Monday before the appeal case took place.
" It was difficult because it's the Arkansas Supreme Court, but it was exciting," Dr. Edwards said. "There was a lot of planning involved because there's a lot of security around them,  and the State Capitol Police and our SROs did a great job; They had to have things a certain way, and luckily it was easy to accommodate them."
The hardest aspect of planning for Dr. Edwards was the newness of it all.
"[I was nervous] only the whole time," Edwards said. "I've never done this before and never hosted this, [I've] never even seen the oral court in session."
Another difficult factor in planning was the importance of the event.
"This is not just like a class meeting where you know, we just all run down there and have a meeting — it took a bunch of us to put this together because it's such a big event." Dr. Edwards said.
Others planning for the trial included AP Government students.
" We learned about how the courts work and kind of everything following up to a case actually going to the Supreme Court," Junior Maricka Farr said. "We researched the court justices, and their history and their education so we could come up with a list of questions to ask them."
AP Government students were given insight into the procedure for the trial, specifically the breakout sessions, during which groups of students met with one of the judges to ask them questions.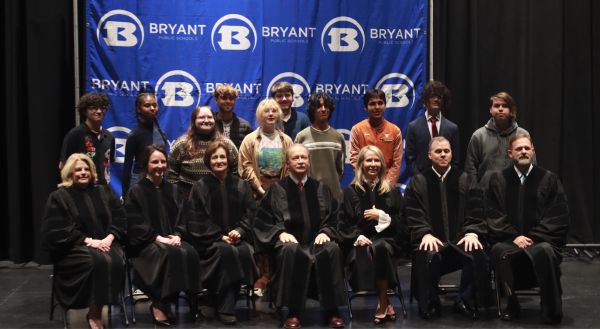 "It made me feel really important [asking a question], like it is achievable if I ever wanted to go into that field," Farr said. "It's not something that is like a super, out of reach, impossible thing. It is very much possible to get there."
Farr's favorite aspect of the trial was talking with Justice Webb and how she got her position as a member living in Saline County.  Farr also enjoyed learning the intricacies of the courts. 
"I learned that there are a lot of separate, smaller components to a court case," Farr said. "It is not just one and done. This one is an appeals case and so it was mainly oral arguments, and then they have to go to a separate breakout session, write a majority opinion within their group. There's just a lot of components of it that I never knew about."
Social Studies teacher Mr. Heatherly helped plan what students would be in attendance for the event.
"It was the hardest thing that we had to do," Heatherly said. "The problem was that we don't have room for 2400 kids, and the Appeals on Wheels people had expressed a desire to also have some other high schools here; That left us basically trying to find a group of around 500 students. It's a shame that we couldn't just have everyone, but that just wasn't there was never a possibility of that."                    
Heatherly greatly enjoyed being able to see the court in action.
"I'm always proud whenever I see our legal system in action," he said. " I enjoy the fact that we have a society that respects law, that respects precedent, that has an eye toward justice for the community as well as attempting to protect the rights of the individual. I'm always taken aback a little bit by that process."
While Heatherly enjoyed the live event, he did regret that more could not experience it with the addition of a livestream.
"I didn't know it would be streamed until just a day or two before it actually took place," Heatherly said. "Had I known that a month or two in advance, I would have spent a lot of time trying to make sure all the social studies teachers, all the English teachers and maybe even everybody on campus would have known so that the kids who couldn't go would have had an opportunity to see it."
Camerata, one of the school's choir group, performed the National Anthem for the Court. 
"[The National Anthem] is kind of like a standard tune that is good to start," choir teacher Mr. Oglesby said. "I usually start the school year with it because I know we'll probably perform it somewhere, and so I use it to teach some of our fundamentals, so they [the choir] have already been learning it."
Although they had already been learning the music since the start of the school year, they had to work on the formalities of singing for the Arkansas Supreme Court.
"Because this event was so formal, there was a little bit of mental prep with everybody and just being like 'this is really serious,'" Oglesby said. "I'm very strict with the kids because I want them to be excellent. So, the weight and the magnitude I've seen for the Supreme Court, there was a little bit more pressure than just singing at Fall Fest."
Senior Liv Mortenson found the performance stressful, yet rewarding.
"It was kind of scary. Because it's the National Anthem, it's like their thing," Mortenson said. "[It's] like if you're cooking for Gordon Ramsay, so it was scary but it was cool afterwards, once it was over."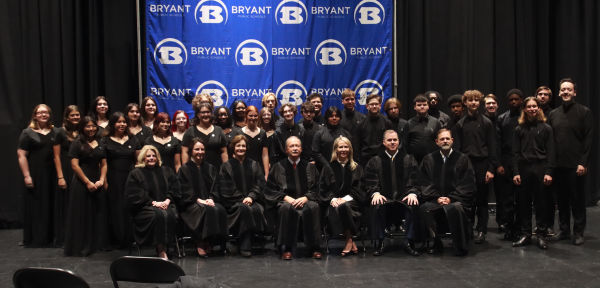 Overall, the community around Bryant is what Heatherly believes helped Bryant experience the Appeals on Wheels event.
"The facilities at Bryant allow us to do things like this, and I hope that everyone is appreciative of the community," he said. "Thanks to the support of our community, we are in a position to be the best high school in the state of Arkansas, not just with our staff and with our students, but also with our facilities, and that's not possible without community support."