Over the summer Taylor Swift toured across the United States performing the first leg of her Era's Tour.  The concert's runtime is around three and a half hours, with a set list of 44 songs.
 In total, Swift will be playing 146 shows across five different continents. So far Swift has performed 56 Era's Tour Shows with 90  left to go. Despite an abundance of show dates, some fans who wanted to attend the tour were unable to due to the limited capacity of stadiums.  Fortunately for those who weren't able to score tickets, Taylor Swift has recently announced that her Eras Tour will be made into a movie. 
The movie, titled "Taylor Swift: The Eras Tour" is set to include her entire set list; and will release in theaters across the world on Friday, October 13th. Not much, other than the movie's significantly shorter run time of two hours and 40 minutes as compared to the live show's runtime of around three hours and 45 minutes, is expected to be different from the actual concert. 
The concert culture of "Taylor Swift: The Eras Tour" the movie is predicted to be very similar to the way fans have been treating the live Eras Tour shows. Swift prompted her fans to treat the movie like they've been treating her concerts.
 "Eras attire, friendship bracelets, singing and dancing encouraged," Swift said in a tweet. 
The opportunity to treat the movie "Taylor Swift: The Era's Tour" like a concert allows fans who haven't gotten a chance to see her live to enjoy her show and the community aspect of it like trading friendship bracelets. Senior Emily Oppenhuizen is a Taylor Swift fan who hasn't gotten to see the tour in person yet and plans on seeing "Taylor Swift: The Eras Tour."
"I feel like it's really cool especially since a lot of Swiftes couldn't get tickets for the tour, so being able to treat this concert like a tour helps those who weren't able to go," Oppenhuizen said.
Sophomore Presley Haynie is an avid Taylor Swift fan, or  Swiftie, who has attended the Eras tour twice so far and would like to again. 
" I've been to the Eras Tour twice— I went to Houston night 2 and Nashville night 1," Haynie said. "The experience was kind of like a community; I mean I've been to other concerts but The Eras Tour was different because it felt like I knew the people around me, like I knew the 60,000 people in the stadium." 
Haynie feels like the friendship bracelet trading contributed to the welcoming concert culture. 
"When Midnights [Swift's latest album] came out, there was a lyric that was like 'make the friendship bracelets take the moment and taste it', and I feel that specific lyric kind of inspired people to make friendship bracelets," Haynie said.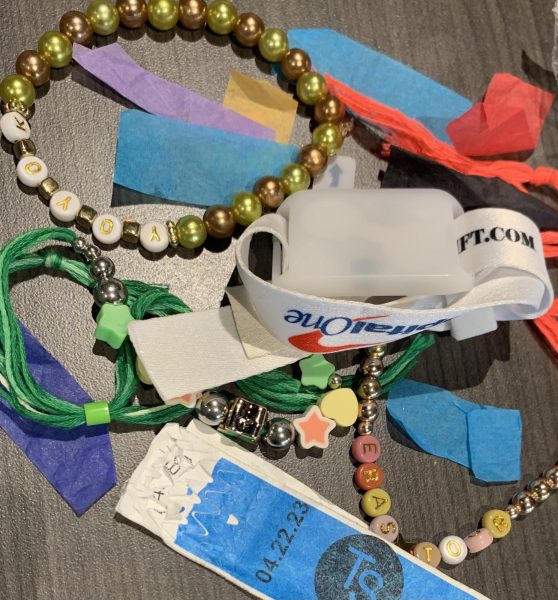 So far the presale tickets for  "Taylor Swift: The Eras Tour" are reported by AMC to be the highest in their presale history, with sales reaching over $37 Million in just 24 hours.  Tickets are priced  at $19.89 for adults and $13.13 for children and can be purchased at https://www.cinemark.com/movies/taylor-swift-the-eras-tour.