Leaving Bryant
Multiple teachers are leaving the Bryant School District after this school year, three of which are Lisa Childers, Tammy Brantley, and Mike Morrow.
As the 2022-2023 school year comes to an end, multiple teachers are either resigning or retiring from the school district. Three of these teachers, all of which who have been teaching for over 10 years, are Mike Morrow, Tammy Brantley, and Lisa Childers.
Tammy Brantley
Tammy Brantley, one of the school's AP U.S. History teachers, has been a teacher at Bryant for 17 years, originally teaching at Bethel Middle School when it first opened.
"That was a crazy year," Brantley said. "Because Bethel wasn't ready to be opened in August, we all had to be squeezed into Bryant Middle School together until October. There were two middle schools on one campus running two different bell schedules."
Before teaching at all, however, Brantley was a lawyer until her sister began training to be a teacher.
"After working as a lawyer for a couple of years, my husband and I started our family and I stayed home to raise our four children for 11 years," Brantley said. "When our youngest daughter was about to enter Kindergarten, my sister was going through the Non-Traditional Teacher training program the state offered. She had told me about the program and it sounded like a good fit for me too."
Brantley has enjoyed history since high school.
"I majored in history in college," Brantley said. "I loved history, and thought teaching a subject I loved would be great. I also had a fabulous U.S. History teacher in high school, Beth Steinman. She made history so interesting."
In her years of teaching, Brantley taught sixth grade reading, seventh and eighth grade Pre-AP English and on-level English, Drama, Speech, AP World History, AP U.S. History and on-level U.S. History, and Student Senate.
"Some of my best memories are of teaching a drama class to sixth graders. I have lots of crazy stories there," Brantley said. "I really have loved every subject I have taught except AP World History, not my favorite. APUSH stands out as my all time favorite."
Brantley has been teaching all of these years because she holds a true love for her job.
"I love the subject, my co-workers, and students," Brantley said. "I also really still enjoy coming up with lesson plans and new ways to engage the students in learning."
Another key aspect of teaching she enjoys is the "light -bulb" moments students go through.
"My best memories of teaching are all of the times when I could literally see students gaining new knowledge, watching light bulbs go off," Brantley said. "I really also love the end of the year watching students be confident in doing presidential debates or battling each other in the Cold War battle or just having fun at Dunkin Donuts the night before the AP exam reviewing."
However, After all of these years, she has decided it's time for her to leave.
"I now have two grandchildren, and I really want to have more flexibility with my work schedule in order to be able to spend more time with them," Brantley said. "Seeing the flexibility my husband has, working remotely since COVID, I really started feeling a pull to find work that is more flexible. Having the new grandbabies added to that desire, so I began praying for guidance and felt a real peace that this is the right time to make that move."
Brantley will be being replaced by Truli Bates for the 2023-2024 school year.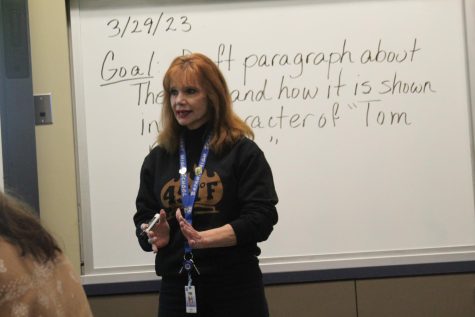 Lisa Childers
Lisa Childers, one of the teachers in the English department, started teaching at the age of 42.
"I started out as a gifted and talented teacher at Caddo Hills," Childers said. "I taught there for four years and then came to Bryant. Then the only position open was an elementary school, so I taught fifth grade, which was a new experience, and I was the GT teacher until I came up to Bryant High in 2014."
Before becoming a teacher, Childers was a member of the Air Force, a technical writer, a stay-at-home mom, and she worked in computer security. All of these jobs helped Childers stay organized as a teacher.
"Even though sometimes it doesn't seem like it, I know when something is organized well and when it isn't," Childers said. "I learned how not to be intimidated, I learned when to be silent, and I learned when it was important to disobey an order if it was an unlawful order."
Teaching at Bryant has also helped Childers better understand how to communicate.
"It's definitely helped me learn when I'm communicating well, and when I'm communicating poorly and need to work on it," Childers said. "I've learned to listen to students and that means learning to listen to people more. And I think really, if I hadn't been around the caliber of students and the diversity of students, I wouldn't have learned those lessons, and I needed them."
Her favorite part of teaching is what she learned while working here: being able to communicate.
"My favorite thing is sometimes one of the hardest things, and that was learning how to communicate because I knew very well how to talk inside my head, and my imaginary audience always understood, but once I got in front of a group of diverse people, then I realized that I was the one who needed to change for them," Childers said. "That's probably been the best thing that's ever happened to me, was to learn when to listen and when to speak."
Now, after 12 years of teaching, Childers has decided to resign.
"In the end there's a societal movement away from knowledge," Childers said. "Society does have to change, but in the end we seem to become less intellectual and I was less attuned, so that's usually a sign that it's time to go."
Childers doesn't have a set plan yet for what she will do after her resignation.
"I am a photographer for Oaklawn with the race track and I recently got interested in attending mixology school, and I might finish some of the stories that I've had in my head for a long time and haven't gotten on paper," Childers said. "I really don't have solid plans. I just plan to enjoy the rest of my life and see how all of this unfolds with all the changes in education."
Childers will be being replaced by Diego Lozano for the 2023-2024 school year.
Mike Morrow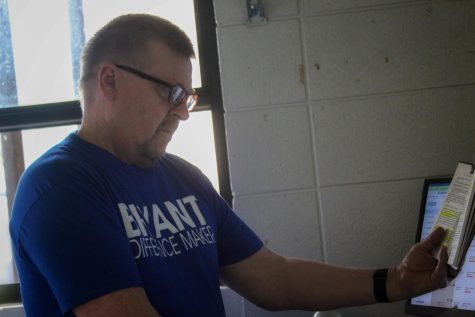 Mike Morrow has been teaching math since 1991, and he's been teaching at Bryant since 2018.
"Whenever I first came here I wanted to get some high earning years, and my wife already taught at Benton and we lived in Arkadelphia, so I thought I would finish my story out right here," Morrow said.
His love for math goes back all the way to elementary school.
"When I was in fifth grade I just had this desire to be a math teacher," Morrow said. "I had a math teacher that was really good and I just started liking math."
In his years of teaching, Morrow has taught Quantitative Literacy, Algebra One, Geometry, Pre-Algebra, Algebra Two, Advanced Math, and Calculus.
"Before I came here, Algebra Two was probably my favorite class to teach," Morrow said. "I taught that for four years at Arkadelphia and that's pretty much all I did when I was there."
His favorite part of teaching has been the ability to share knowledge.
"Whenever I learn a new song and play the guitar, it just gives me a thrill," Morrow said. "For me to show somebody something that they've never known how to do before, they've got to do in their head how to do something that they never knew before. And that's just—that's real for me, satisfying for me too, to just show somebody, change their life maybe."
Morrow has been interested in woodworking for a long time, something he plans to incorporate into his retirement plan.
"I've never had all that much time because of me being a school teacher and a bus driver," Morrow said. "I've been interested for decades."
Morrow has been planning to retire this year since he began working at Bryant, and he's had the same plan for after retirement as well.
"I'm going this summer to Denver, Colorado to the Colorado School of Luthiery, which is a guitar making school," Morrow said. "I'll be learning to make guitars along with several other kinds of woodworking; restoration and furniture, making workbenches, doing small stuff with wood."
Morrow will be being replaced by Alyssa Blumhorst for the 2023-2024 school year.