Every day, students are served meals for breakfast and lunch in BHS's cafeteria. Whether they're interested in the Tex-Mex Line or the Grab N Go Line, students are given a variety of options for their choice of meal. Responsible for preparing these meals, BHS's Food Service is also responsible for cleaning tables, cleaning dishes and strives to welcome and please students.
Bennie Kuykendall, who has worked in the BHS cafeteria for five years, says that her job is focused on students.
"We're here to serve them," Kuykendall said. "To make sure they have a good breakfast, good lunch, and if they need extra or whatever they need – we're here for them."
Kuykendall has worked approximately 40 years in Food Service.
"I've done this all my life," Kuykendall said. "I worked at Little Rock Christian Academy for eight years in the cafeteria, and then I worked in Western Sizzlin and Golden Corral in management. I'm originally from Texas and found a job and started working with Robin, one of the best things that ever happened to me!"
Working alongside Kuykendall, Robin Nelson – who has also worked in the BHS cafeteria for five years full-time – says that the Food Service provides more than meals for students: it also offers opportunities.
"I'm a paraprofessional and I started this snack bar with the special needs [students]," Nelson said. "We have the [students] come in here and learn job skills. […] It wasn't until 5 years ago that I moved in [the cafeteria] full time. But, it's awesome seeing the kids learn to do job skills so they can go out and learn and work."
With learning job skills, Nelson says that several students have found job opportunities at places like Dairy Queen, Walmart and even BHS's cafeteria.
"We had a snack bar before Covid-19 and I would do the snack bar and teach [students] how to count money," Nelson said. "We have not had that back yet."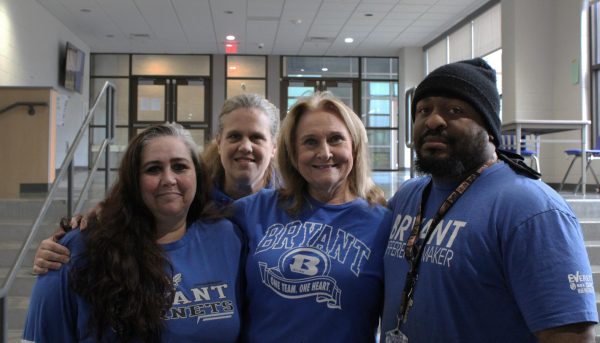 Although BHS no longer has a snack bar, many students who previously worked in the snack bar now take on more roles organized in the cafeteria.
"They're [waiting] tables, they're learning how to stock, do the trays, so they're learning a lot of skills." Nelson said. "That's why I came in here, to teach more hands-on stuff with the students. [Training the new generation] is very important to us!"
In addition to offering job skill opportunities, Marilyn Hale – who has been working as a cafeteria manager for five years – says she enjoys feeding the students.
"My children went to elementary [school] in Arizona and I started working two hours and it just turned into a career," Hale said. "Most days, [working] is very much rewarding."
Curtis Jones, who has also been working as a cafeteria manager for five years, gained interest in the food service after attending a job fair.
"I came to a job fair and I met the Food Service that worked there and she gave me opportunities to come work with the school," Jones said. "Everybody has different tastes. It has to be done in a timely manner. Sometimes, we don't have enough people to get all this stuff out so you gotta do what you gotta do. Make sure all the kids eat, […] and that's what we do."
BHS's Food Service doesn't only provide meals for students, but they also have expressed care for students as a whole.
"What I like about the students is when they come in every year and show their appreciation," Jones said., "They bring us these big gifts and take pictures with them and they let us know how they feel about us. […] We're good to know that we've taken care of them and fed them and stuff like that."
Hale says the staff in BHS's cafeteria work hard, and hopes the school recognizes the hard work they put in.
"Because no matter what, we are a part of them with the teachers and everybody," Hale said.
At the end of the day, BHS's Food Service strives to offer support for students in whatever way they can.
"We've made a lot of good friends here," Kuykendall said. "When I'm out there serving the food, [students] come up and hug me. They look up to us, which is wonderful! I love that!"