Bryant Volleyball Earns First State Tournament Appearance in Three Seasons
The Hornets competed in the 6A State Volleyball tournament on October 25.
Bryant volleyball traveled to Cabot to compete in the 2022 6A State Volleyball Tournament on Tuesday, October 25. The Hornet's qualification for this year's tournament marks their first appearance since 2020.
Sophomore Gracie Brown led the way, pacing the team in total kills, kills per set, hitting percentage, and total blocks. Sophomore Lynnli McDonald was the team's top server, leading in aces and aces per set. Sophomore Reese Wilburn led in assists.
Led by the young trio, the Hornets managed a 5-7 conference record this year, earning them 5th in the division.
"It was more fun" senior Kylee Fleharty said of the season. "We started having more fun while playing in the games. And you could see the changes."
Despite the success, the Lady Hornet's season didn't have the best start; the team won just one of their first seven games.
On Tuesday, September 13 a pivotal win would come for the Hornets; a dominant 3-0 victory over Little Rock Southwest. The Hornets would go on to win 7 of their next 10 games, propelling themselves into the playoff hunt.
"We all kind of did a lot more team bonding" Fleharty said on what sparked their mid-season turnaround. "The whole team kind of came together more as like being there for each other."
The team ended their regular season at home with a 3-0 win over the White Hall Bulldogs. Playoff spot solidified, the Hornet's would turn their attention toward the 6A State Tournament in Cabot. As they departed, the Lady Hornets were surprised by hundreds of peers and staff lining the parking lot to wish them farewell.
Ultimately, the Hornets would fall short, losing to the Bentonville Tigers in the first round.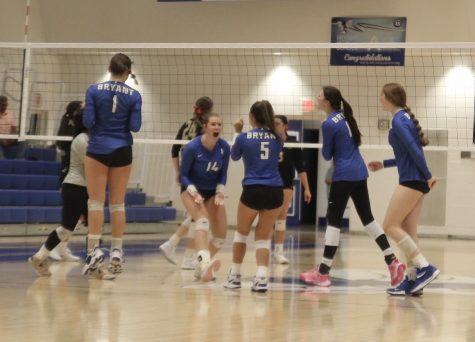 "We thought we had a pretty good chance of winning against Bentonville. But I feel like we were up really too early, getting ready and being rushed." Flaherty said. "It was fun right before we got to play, but it was just so stressful up until that point."
Despite the disappointing end, a playoff appearance is a step in the right direction for the program. The 2022 Hornets amassed 10 wins, a feat the program hasn't accomplished since the 2017 season, on the way to just their second State Tournament appearance since 2018.
After improvements from teams in the recent past, coach Leigh Ann Back will lead next year's Hornets as they look to build on their success.