Nationally Acclaimed
Cheer wins first in Super Varsity Non-Tumbling at Nationals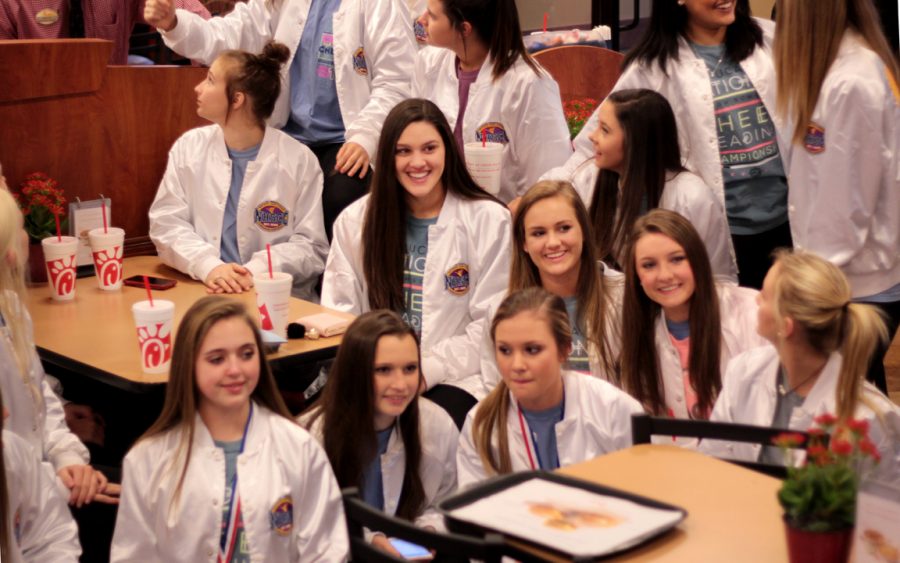 Julia Nall, Print Editor
February 20, 2017
Following a turbulent, injury-filled season, varsity cheer returned from the National High School Cheerleading Championship in Orlando with a new "National Champions" title.
Despite their recent success, the team had a rocky start. Four cheerleaders, including senior captain Ingrid Olsen, were out with injuries for the state competition. The routine had to be redone multiple times, and cheerleaders had to learn quickly how to cope with change.
"We had a lot of injuries, over and over again," sophomore Zoie Titsworth said. "We would come in every morning and have a new person hurt. We had to learn to be comfortable with new people and learn to change."
Over the course of the season, six girls were injured, including one injury that happened during the finals performance at Nationals. In addition to the myriad of medical problems, many of the cheerleaders had to learn how to adjust to the demands of the varsity team compared to the junior varsity team.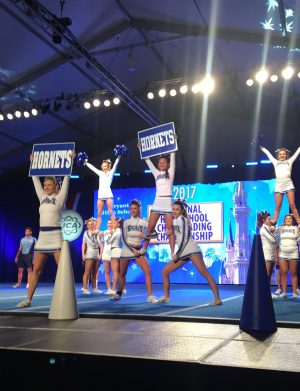 "We weren't fully into it in the beginning of the year," sophomore Lauren Burnett said. "Our team is [almost] all sophomores so we didn't know what to expect. We were still getting into the routine of being a varsity cheerleader and we all had to step up."
The early-season difficulties left a lot of the team unsure of what Nationals would look like for them.
"We did not expect to do that well," junior Camryn Bolton said. "We were all expecting the worst, I think. We had good performances, but we're not a cocky team."
The event of the championship itself is the largest high school cheer competition of the year. It is hosted in Orlando at the ESPN Wide World of Sports, where it is nationally televised to ESPN and ESPN2. The team was able to spend the days leading up to their performance in the Disney parks, cramming in time for fun between practices.
"It's hard, especially when you're in Disney World," Bolton said. "You're so overwhelmed and it's so hard to focus."
While they waited to perform, cheer was able to see their competition practicing.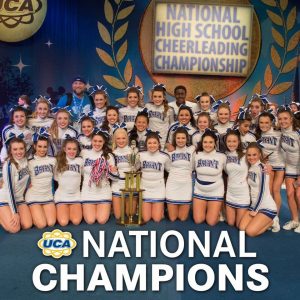 "It's really intense," Olsen said.
Olsen was one of the six girls to get an injury this year. It put her out for the majority of the season. Nationals was the only competition she was able to perform at this year, and as a senior, it was her last.
"It felt really good going out with a new title," Olsen said.
Upon their return, the team was greeted with a storm of tweets and Facebook posts congratulating them on their success. The Reynolds Rd. Chick-Fil-A provided free breakfast for every member of the team for their first morning back at school.
"It's good to know that the community has our back," Burnett said.
While the cheer team has some downtime now to recover from an intense season, the pressure is already on for current freshmen.
"Right now, I think they have a lot of pressure on [incoming varsity cheerleaders]," sophomore Macy Harrison said. "I think whenever we get them on the team, we just need to put it in their minds that our goal is to be national champions again."
As the sophomores and juniors begin to prepare for next year, the seniors are leaving behind some parting advice for the team.
"Just keep pushing through, even when you have tough practices or bad performances at a competition," senior captain Elizabeth Palmer said. "You just can't give up on each other and you have to get back in it."