New Fantasy Football Season Underway
Fantasy football fans build their teams as a new NFL season begins
September 20, 2019
With a new season of fantasy football here, the buzz of who drafted whom, which players are good and which players are not and who will be first in their league is on football nerds' minds.
Fantasy football is an online game where one drafts a team of real NFL player and gets a certain amount of points for how well those players perform throughout the week. Back in 1972, this game started as a way for football junkies to get more addicted, but because of the rise of the game, and in Arkansas, the Oaklawn Racing Casino resort, fantasy football has become a huge market and a potentially profitable game for the fantasy teams who play it right. 
While fantasy football has had a huge surge in popularity recently, junior Ethan Cottrell has been playing for five years. While some play for free with family and friends, Cottrell also plays for money. 
"I play with my family, and we put in about $30," Cottrell said. "I have won the past two years." 
In 2012, only 8 million people played fantasy football nationwide, while in 2017, over 15 million people were playing. One of the potential reasons for this is the new legality of sports betting in Nevada, New Jersey, Pennsylvania, West Virginia, New Mexico, Delaware, Rhode Island, Mississippi and Arkansas. 
"Betting could be placed on a single play," English teacher Shawn Regan said. "It is probably a billion dollar industry by now."
While sports betting is now legal in these states, there are still regulations around who can bet and who cannot. 
"If you're an athlete, official, [or] manager, it is off limits," Regan said. "There will always be that negative component [of sports betting], and that will be its downfall."
While many in the sports world still question the benefits of fantasy football gambling, it is not stopping anyone from winning. English teacher Crystal Hall has won hundreds of dollars and is still active to this day. She had little to no connection to the NFL until fantasy came along.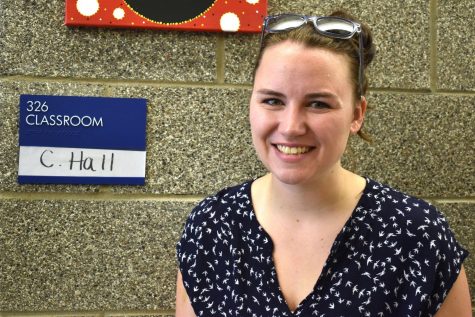 "It gave me a reason to watch other games, instead of just my team," Hall said. "I'm a very competitive person." 
The NFL has benefited from fantasy, as people are watching more games and becoming more invested. Fantasy leagues connect everyday people to the NFL, one of the most famous and richest organizations in the nation. Everyone can have a personal connection now, even those who would not usually care. 
"Fantasy football is creating a favorite player league, instead of the favorite team league," Regan said. 
Cottrell and other fantasy football players hope for another season of having fun, making money and connecting to the NFL like never before. And if anyone is  still wondering who to draft…
"Saquon Barkley, Alvin Kamara and the Chicago Bears defense," Cottrell said.