Summer Nights and Theatre Lights
The Royal Theater in Benton has produced Grease the Musical as an early spring production. Bryant students take important roles in this production.
This January,the Young Players Second Stage (YP2S) will be bringing Grease the musical to the Royal Theatre through January 6th-16th with Bryant students featured in ensemble and starring roles. 
Sponsored by Middlebrook Electric, the production will be directed by Justin Pike with musical direction by Tanner Oglesby and will be "double casted" with two different groups playing on separate weekends. 
"Usually it's based on a college cast and a high school cast, but this time, it's intermixed," says Senior Shelby Loftis, "There were enough talented people to play two parts."
Loftis will be playing the female lead Sandy Dumbrowski . Loftis has previously played Becky in the Royal's Production of A Little Princess, a cast member in Marry Poppins,  the Baker's wife in Into the Woods Jr. and a part of Heather's ensemble.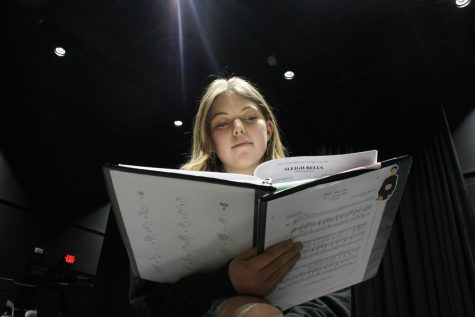 "I get to play a character that I have never really got to play before. I've never been the love interest, that's something totally new for me, but I'm super excited to experience it" Loftis states. 
The Royal Theater posted audition information on their Instagram and Facebook accounts, and those who were interested contacted them via email. 
"Then you send an email and fill out a form with your name, your height, all the fun stuff. Like who you wanna be, if you've done theater before, and then you'll set up an audition time.
Auditions took place at the Bryant High School's black box room. There was no dance call, leaving auditionees to find a song from Grease or in a similar style to Grease.
"I sang "I Enjoy Being a Girl" from Flower Drum Song." Loftis states. 
For callbacks, director Justin Pike, gave auditionees scripts to read and allowed the cast to choose which roles they'd like to read for. Auditionees got in groups for about 20 minutes and worked through the script, so Pike could see who everyone was more comfortable with. Later Pike would call on people he wanted to see more of.
"You had to speak up if you wanted a role so it was definitely more nerve racking than usual," Loftis says.
The cast did a read through of the musical over the Thanksgiving break and the first rehearsals took place Friday December 10th and over the Christmas break. 
"Rehearsals are what's the most fun because not only are you working on developing this character but you are creating so many friends along the way.
Tickets are available at the royal platers.ticketleap.com with showtimes at 7:30 pm Thursdays through Saturdays and 2:30pm on Sundays. 
"This cast you guys are so talented, so talented. Everybody can freaking sing so good…I'm just so excited to put this show together" Loftis states.