Constructing Success
Bryant High School Robotics Teams 5691X and 5691Z Qualify for the 2023 World Championship after success at State Tournament
Three Bryant High School robotics teams (5691X, 5691Y, and 5691Z) prepared and constructed 2-4 robots for the Arkansas VEX Robotics State Tournament on March 11 at Arkansas Tech University in Russellville, Arkansas. Teams 5691X and 5691Z qualified for the VEX Robotics World Championship 2023, which will be in Dallas, Texas. 
Ready, Set, Build! – Robotics Students Preparing for State
Doug Maxwell has officially been the sponsor for the Bryant High School robotics teams for three years now. 
"I've been working behind the scenes with robotics for about eight or ten years now," Maxwell said. "Kinda helping with the teams. Both of my daughters that came through engineering were involved as well and a lot of the students I had [while] teaching math were involved in [robotics]."
Bryant High School Robotics teams have previously participated in a February competition at Bryant Junior High School, where the senior team was awarded Tournament Champions, Skills Champions, and Overall Excellence. The girls team was awarded Design Champions. 
"It was two of my teams that had not had the opportunity to compete yet this year," Maxwell said. The Bryant VEX Competition allowed for teams 5691X, 5691Y, and 5691Z to qualify for state. 
Robotics students have taken two months steps to prepare for state. Some robotics students rely on brainstorming and completing their tasks in advance to be prepared for competitions. 
"It's a lot of researching and just brainstorming for ideas and making sure you're getting everything done two or three weeks in advance so you can give it over to the programming person and they can do their thing so the driver can also get time to practice," senior Gavin Hill said.
Some robotics students reflected on their past competitions to better themselves or  identify what they need to correct or practice on. 
"[We've] taken a lot of steps," senior Peyton Garrett said. "We use our past competitions to evaluate our skills and see what we need to improve on for this March 11 competition and we decided that we would change some of the things on our robot to better ourselves to perform better at the March 11 competition. And that's practicing three times after school every week, three days after school every week and [using] advisories, buzz times, and stuff like that."
Maxwell himself advises robotics students to have their robots and individual own tasks done in advance to ensure success and less stress at competitions.
"Most of these teams are on their second or third or possibly even forth robot of the year," Maxwell said. "We really kinda stressed to them to try to have a robot ready for a competition early in November even though it may not be their finished product but something that we can compete in."
Maxwell has also recommended for robotics students to reflect on the notable happenings that are to occur at competitions and what they can learn or improve on.
"After the competition, we'll come back and look back over our results," Maxwell said. "What went good? What went bad? What are we seeing? To do a lot of research on the internet, looking at other states' [robotics teams]. We're proud to represent Arkansas, but the competition level in Arkansas isn't necessarily as high as some of the other states are. So, we're always kinda looking to compare ourselves to other places other than just around here."
Trial and Error – State Results
After their efforts and heavy preparations, teams 5691X and 5691Z ended up qualifying for the World Championships. 5691X won the Tournament Championships award and 5691Z won the Tournament Champions and the Skills Champions award. Senior students Gavin Hill, Peyton Garrett and Alexander Spicer were members of the 5691Z team. 
"We definitely panicked after the first finals match that we lost—it was a best of three only for the finals—because our teammate shot their string out of the field which was an automatic disqualification." Hill said. "So going into the rest of the final matches, we had to change our strategy to counteract the scoring power of our opponents."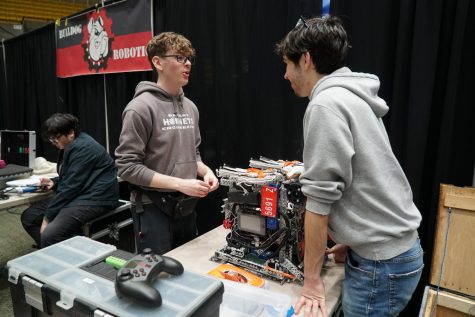 In the midst of the teams attempting to score the most points, emotions ran high for many robotics students.
"It felt good to be able to prove ourselves once again and become 2x state champions." Garrett said. "We plan to continue on this journey and prove ourselves at the world championship."
However, their victory at state doesn't come without fixes that need acknowledging.
"There were several mishaps however, some that we will have to fix going forward," Spicer said.
The Essence of Problem-Solving – Lessons Learned, Skills Gained
After the competition, many robotics students reflected on the positives and negatives to evaluate themselves for upcoming competitions.
"We learned that we needed to spend more time on our autonomous programs before competition today because they were lackluster compared to everyone else," Hill said. "We need to do a better job at time management so we have more time to work on these before competitions." 
With their success at the state, many robotics students think other robotics teams can learn valuable things. Robotics teams could be inspired by the team's precision and overall dedication.
"Other robotics teams can watch and learn from this to show they can do the same thing and that it is not impossible," Garrett said. 
Other teams could also be inspired by the team's fast ability to problem solve efficiently and effectively.
"Other teams could learn from our quick problem solving," Spicer said. "For example, I had to rewire our pneumatic system between matches so that we would still be able to expand as well as initially be within the initial size constraint."
Many robotics students argue that a key component for robotics teams is the ability to problem solve effectively and efficiently to do well at competitions, such as the one on March 11. 
"It's like on paper vs. in actuality," Spicer said. "On paper it works, but in reality, something's gonna go wrong. So, you just have to be able to think fast and figure out a solution to the problem."
According to Maxwell, problem solving is a key component for the many robotics students.
"The great thing about robotics and these kids is  having to problem solve on the fly," Maxwell said. "A lot of the concepts and things that they talk about in their physics classes or their geometry classes or Algebra II], this is where rubber meets the road and they realize what works and what doesn't and they get to take the theoretical into the practical."