Arkansas Bill Faces Controversy for Allegedly Targeting the LGBTQ+ Community
Arkansas Senate Bill 43 faces backlash with claims that it targets drag performers and the LGBTQ+ community.
On Monday, Jan. 9, Arkansas legislators filed Senate Bill 43, which would ban "adult-oriented performances" in public areas. Although the bill has since been amended, opponents of the bill expressed concern that the wording of the original bill specifically targeted drag performances and the LGBTQ+ community.
The original bill classified drag as an adult-oriented performance and defined drag as a performer wearing clothing or accessories opposite of their assigned sex and performing in front of an audience of two or more people.
The amended bill now designates adult-oriented performances as "intended to appeal to the prurient interest," specifying that these performances would feature things like nudity and sexual activities. 
The amended bill also proposes that no adult-oriented business would be allowed on public property or admit minors for attendance. According to Representative Mary Bentley, a co-sponsor of the bill, the goal of the bill is to protect children from sexual grooming.
"There is plenty of time for adults to do what they want to do. This is about protecting children," Bentley told KARK. "Parents are really concerned of what they consider sexual grooming of their kids, and we're just ready to push back. Push back with the strong values, and I know that the vast majority of Arkansans feel the exact same way that I do."
Due to the vague nature of the bill prior to the amendment, many expressed concern that it could affect more than just drag performers, claiming that it is an attack on transgender individuals and others who may not dress according to their gender identity assigned at birth. 
The Arkansas branch of the American Civil Liberties Union (ACLU) released a joint statement with 19 other pro-equality groups condemning the bill, claiming that "the language of SB43 would affect not only people who dress in drag, but also transgender people who dress according to their gender identity."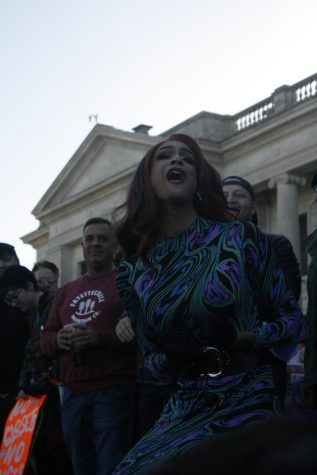 According to senior Nyla Danzy, if the bill became law, it could affect transgender students doing activities such as performing at school events or doing karaoke.
"We are a huge school and if anyone considered something performing, no matter if it's like singing or lip synching … and you're dressed as an opposite gender than assigned at your birth, then that could be prohibited behavior, banned behavior, illegal behavior, and that's really dangerous for trans students, trans individuals," Danzy said.
Former Bryant student Amari Green believes that the language of the bill was meant to target the LGBTQ+ community.
"I honestly think it'll cause more fear than good. Now people can't openly be honest as to who they are, so they have to take extra measures to be able to do it in private," former Bryant student Amari Green said. "Honestly, it's taken a long time for the LGBTQ+ community to get to where we are now, but we're slowly going back in time. And I think this bill is just the beginning."
Opponents of the original bill argued that drag is an art form and allows for expression and representation of the LGBTQ+ community.
"A lot of the diction used to describe [drag] recently, especially in Arkansas has been that it's like, sexually provocative and it's dangerous to the innocence of children, but I really just think it's a form of expressing yourself and one that needs to be explored more, especially here," Danzy said.
For Green, forcing drag out of the public eye takes away the right for individuals to freely express themselves through drag.
"I believe the bill takes away people's free right of expression. It really does show people's ignorance and closed mindedness when it comes to people being their authentic selves on their own terms," Green said.
This bill followed other similar legislation directed at the transgender community, such as a 2021 bill that banned gender-affirming health care for transgender children, as well as another bill that banned transgender girls from competing on girls' sports teams in school. More recently, House Bill 1156, filed on Jan. 17, proposes that all students at public schools or open-enrollment public charter schools must use the bathroom that corresponds with their sex assigned at birth. 
According to Danzy, instead of limiting the rights of individuals, our community should be encouraging people to explore their identities.
"People think that they're confused. Even if you think they're confused, why aren't you letting them explore themselves," Danzy said. "Our community should be open to allowing children especially to explore who they are. Instead we're trying to limit that behavior, and we see it as a behavior, see it as a phase, but it's not a phase. It's their identity, and we shouldn't stop people from being who they are.