For centuries, historians have debated the true resting place of the Holy Grain. Described as a bread with impeccable flavor, mouth watering scent and airy texture, the Holy Grain has so far remained a mystery. So, this holiday season, I'm turning away from grandma's homemade rolls and  going on a journey in search of this unobtainable relic, a.k.a., the best bread served in Saline County. 
I began this quest with the help of Jacob, my photographer, and Sydney, one of the editors of the Prospective. With their company, I traversed to five separate restaurants: Texas Roadhouse, Olive Garden, Verona, Italy in Town and Logan's Roadhouse. 
Before stepping foot in these establishments, I devised the criteria on which to judge this bread, which I deemed the Five Pillars of the Holy Grain. 
Taste: what flavors are present in the bread? 
Smell: does the bread make your mouth water?
Portion: how much bread is presented? Is it too much or not enough?
Condiments: what condiments can be added to the bread? Do they improve or impair the experience?
Reheat-ability: can the bread be taken home, reheated and still match its original quality? 
With the tenants laid before me, I embarked on my pilgrimage. 
Texas Roadhouse:
I will admit, I entered the Roadhouse with low expectations. The overwhelming environment with birthday singing, bustling hostesses and taxidermied animal heads usually steers me away from this Southwestern style establishment. But Texas Roadhouse is known for their made-from-scratch rolls and honey cinnamon butter, so my journey would be incomplete without it. 
When the basket was placed at the table, I couldn't help but draw in a deep breath as a steam rose off the glossy rolls. There were four of them, evenly shaped and golden brown, adorned with a plastic container of the cinnamon-honey spread. Sydney and I each took one of the rolls and split them in half.
I found that the rolls were comparable to M&M's, in the way that they had a slightly shell-like crust. On the inside they were hot and airy; the bread pulled apart with ease and melted on the tongue. I found the flavor to be surprisingly sweet, and with the honey cinnamon butter, these rolls were a genuine dessert. Although I would have preferred an element of saltiness within the bread to contrast with the sugary butter, I found these rolls to be startlingly memorable. 
As for reheat-ability, popping one or two rolls out of a to-go box and into an oven or air fryer is an easy way to improve your evening snacking. The rolls remain fresh—albeit drier—and flavorful even after reheating. 
Overall, I rate the Texas Roadhouse rolls a 9/10 and would highly suggest replacing a traditional dessert for these rolls as an unconventional little treat.
Olive Garden: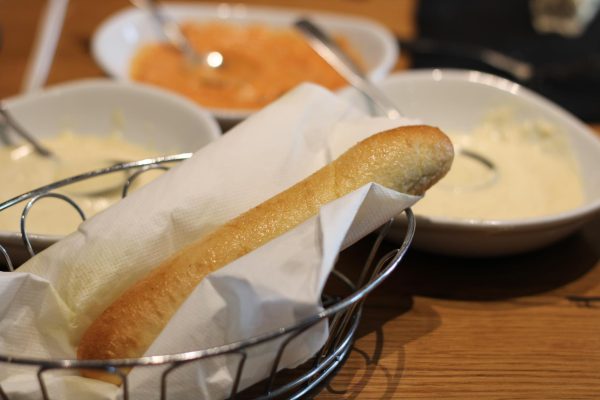 To kick off what I dubbed "Italy Day" (the Saturday in which I visited all three Italian restaurants on my list), Olive Garden was our first stop. 
Being one of the five locations in Arkansas, Benton's Olive Garden has cemented the status of its breadsticks as some of the best around. Jacob and I were seated promptly around 2:30 p.m. and denied an offered menu, hoping simply for a basket of breadsticks. Upon ordering, our waitress revealed that there were three dipping sauces which may elevate our tasting experience. We chose the alfredo and five cheese marinara, and I can't be more grateful we did. 
Presented to us was a basket overflowing with four steaming breadsticks just like you would see in an Olive Garden commercial. They were dusted with a garlic salt that added an element of savoriness the Texas Roadhouse rolls lacked, however that flavor was isolated to the top of the bread and did not resonate throughout the bite. I found they were soft and chewy, slightly dry and very dense. 
But it was with the added alfredo sauce that I found a contender for the title of Holy Grain. The liquidy alfredo sauce soaked into the dense dryness of the breadsticks, creating a smoother texture and saltier taste. I only stopped dipping bread into the bowl because Jacob and I had cleared out the basket. The five cheese marinara, however, was more disappointing compared to our first bowl. It seemed whipped, a thicker texture compared to the alfredo, swimming with chunks of tomato. The marinara did enhance the savory aspects of the bread, yet I found the flavor of approximately zero cheeses present. So, I found myself going back to the alfredo, and I was happy to do so. 
Before leaving, our waitress supplied me with a free to-go bag of breadsticks, and on the front were printed instructions for reheating. And, of course, I acquired a small to-go container of the alfredo sauce as well. After following the bag's directions (preheating the oven to 350°F, then warming for five minutes), I found the breadsticks to be softer than and just as flavorful as those I had inside the restaurant.  
Having been previously unaware of the dipping sauces, I did not expect my visit to Olive Garden to yield such impressive results. Overall, the breadsticks rank a solid 7/10 (with a point knocked off due to the garlic breath you retain after eating). Although, accompanied by the alfredo sauce, they are a genuine 10/10.
Verona: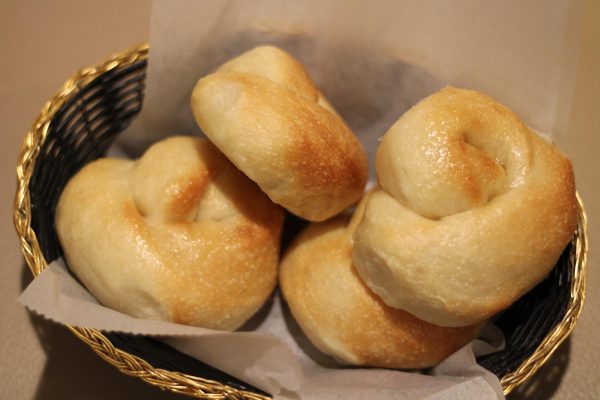 Just across the highway from Olive Garden is the barn-shaped, locally owned Verona Italian Restaurant. Jacob and I stepped inside and were greeted with a warm, cozy atmosphere. We sat in the back of the restaurant and along with our bread, Jacob ordered tiramisu and I got a cannoli. Despite anticipating our midday deserts, the bread was our main focus. 
Following the usual portion trend, the four rolls were uniquely shaped compared to the other restaurant's standards. They were small curls of dough folded into a circle, which reminded me of a French pastry. Pulling the mildly warm swirl apart, the texture was delightfully cloud-like and tasting of expensive olive oil. Despite not being traditional garlic bread, these rolls seemed wonderfully homemade, which I believe would make every Nonna in Italy proud. However, their flavor was relatively neutral with little to be remembered, and with there being four of these large rolls, some patrons might find them too hefty for their overall meal. 
By reheating the roll I did take home, I found it to be drier and more plain than I remembered. To compensate for its unfussy flavor, I sprinkled a bit of garlic salt on a piece, then dipped it in olive oil. This embellished the original taste of the roll to a more memorable status. 
The Verona rolls ultimately receive a 6/10 for their luxurious texture, but they don't quite meet the flavor profile of the Holy Grain. 
Italy in Town: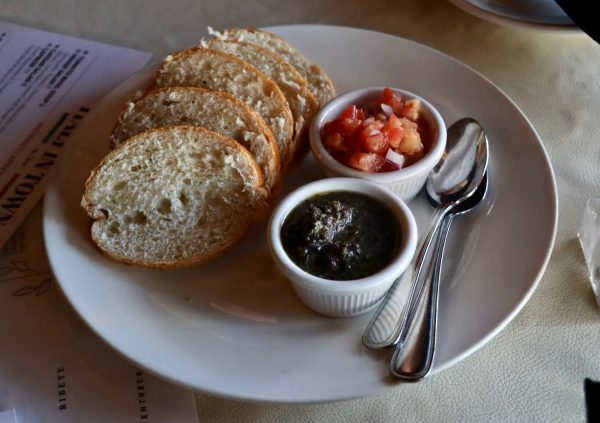 Later that same Saturday evening, Jacob departed and Sydney accompanied me on my final stop of the night: Italy in Town. Notorious for being a popular date night destination, Italy in Town resides on the main street of downtown Benton. Neither Sydney nor I had ever been, so we were surprised to find the dark interior to be completely empty at 4:00 p.m. on a Saturday. I'd wanted us to be early to beat the dinner rush only to find there was no race at all, so we were sat in the window alcove of the gorgeously dark, empty restaurant. 
When we finally received our plate (not a basket) of bread, I was astonished at the quality of presentation. For three straight restaurants, woven baskets were the norm. But at Italy in Town, the loaf was sliced into five pieces and joined by two small bowls, one of pesto and the other a vibrantly red tomato-onion mix. I had expected (and hoped for) an olive oil and balsamic vinegar dip, such as those I'd had at other, more traditional Italian establishments. But I enjoy pesto, so I spread it atop a slice of the bread. Immediately, I caught myself suspecting the bread was store bought. It was thin, with lots of air bubbles throughout the dough, and got cold rather quickly. As I was chewing, the "flesh" of the bread smushed flat and ultimately proved to be quite bland. Not even the pesto could save it. The watery basil spread soaked into the bread like water to a paper towel, creating a texture comparable to baby food. Juxtaposed with the tough crust, the squishy consistency was unfavorable. In spite of my negativity, Sydney enjoyed the tomato-onion mix on the bread and left with a positive opinion of the experience. 
I did not take this bread home to rate, as there was none left to review. Although I can imagine toasting the bread would cause it to harden and would not accurately reflect how it was presented at the restaurant. I did take home the delectable pasta I ordered, which shows the emphasis being on the quality of food rather than appetizers at Italy in Town. All that considered, my rating of the bread is a 5/10, retaining most of its points for such a mouth-watering presentation. 
Logan's Roadhouse: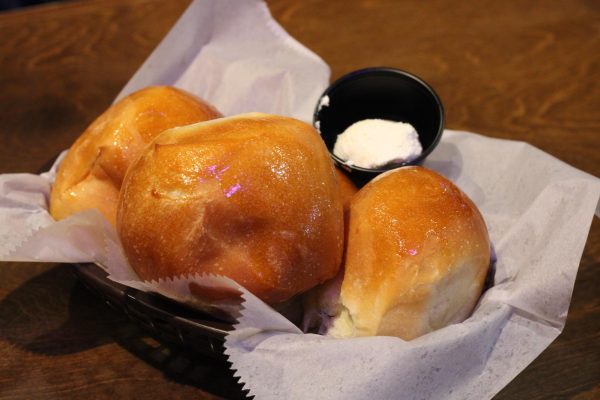 Last, but not yeast, was the opposable roadhouse. I found myself in a Logan's booth not once, but twice. The first time, a Sunday around noon, I was presented with a sad basket of bread. Within a sea of parchment paper, two medium-sized rolls lay haphazard on a container of butter. Unfortunately, the only noteworthy aspect of these rolls were their lack of warmth. 
But I believe in giving second chances, so Jacob and I doubled-back the following Tuesday. Upon our second visit, we were presented with four glowing buns glazed so shinily I caught my own reflection on their surface. I ripped into a roll with anticipation and quickly realized that looks can be deceiving. The outer crust of the rolls was so tough, my jaw began to ache after the second bite. And by spreading butter on the airy inside, I did nothing but add calories. The rolls and condiments were devastatingly flavorless—no traces of salt embedded in either. I despised the thought of eating another round of these rolls within the comfort of my own home, so I opted out of a to-go box and let the carcasses of the bread rot within their basket, which had become a graveyard of deceptively delicious looking bread. 
Compared to the other roadhouse, I must rate my experience as being a 3/10. I believe Logan himself would tear up at the thought of rolls such as those being served in his restaurant. 
With the final destination of my journey crossed off my list, I had come to a consensus: the Holy Grain was most definitely Texas Roadhouse's rolls. Despite the intoxicating flavor of Olive Garden's alfredo sauce, their breadsticks just didn't compare to Texas Roadhouse's iconic buns. Texas Roadhouse didn't require a dipping sauce in order to prove their status of Holy Grain-ness, unlike a certain Italian restaurant chain. And, even with a condiment, the Texas Roadhouse rolls proved their complexity by serving as both savory and sweet. So, with the power vested in me as a self-proclaimed bread-venturer, I now pronounce Texas Roadhouse as the Holy Grain. Wheat it and weep.