LaTavion Scott Shatters Rushing Records
Over the years, the Hornet football team has produced some very talented running backs. One might think of 2016 graduate Savonte Turner, 2017 graduates Cameron Coleman and De'amonte Terry or 2010 graduate Chris Rycraw. But the talk of the football team the past two seasons has been senior LaTavion Scott, who has racked up over 3,700 all-purpose yards. After a standout performance against Fort Smith Northside Nov. 23, Scott was crowned the all-time leading rusher at Bryant High School.
"I feel honored," Scott said. "It's overwhelming, because there were many great people that broke that record before me, so I feel really good about myself, and I want to thank God for everything."
Before Scott, the former record holder for career rushing yards was Rycraw. Rycraw was on hand for Scott's performance, in which he broke his record for career rushing yards and rushing touchdowns for a season. Rycraw spoke with Scott after the game.
"He just gave me some words of knowledge," Scott said. "He told me to keep it up, because he sees a bright future in me."
Scott did not receive a lot of playing time as a sophomore because he was young and there were three senior backs who played over him. But Scott always envisioned himself as being the best running back in Bryant history.
"It might sound crazy, but I actually did," Scott said. "I put in a lot of extra time and a lot of hard work that people didn't see. I thought I'd be here right now."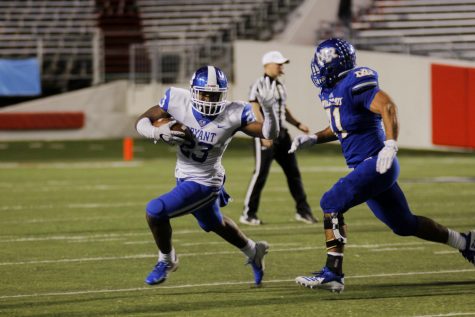 Head coach Buck James believes that Scott's record season was good for the team and allowed for a good team effort.
"He has a good offensive line, and the receivers blocked well this season," James said. "It was a great opportunity for him to showcase his talents, and [Scott's season] sets the bar high for the next guy."
Scott realized that his success on the field would bring high expectations, but it did not faze him.
"I already knew people were looking up to me and looking at every move I make," Scott said. "I just watch what I do and try to limit my mistakes and be a good leader."
Quarterback Ren Hefley believed that Scott's ability to run was beneficial to the offense in terms of scheming.
"When he takes off and breaks a long run, it helps our passing game," Hefley said. "It allows us to open up more things for our offense when the running game is working."
Scott believes his success comes from his hard work ethic and his relationship with God.
"I had a dream," Scott said. "I had to go hard and never give up and always keep God first. He will take you wherever you want to go."