Football Pre-Season Preview
Hang on for a minute...we're trying to find some more stories you might like.
A typical football offseason consists of early morning workouts, practice, learning and changes. The Hornets' offseason involved many adjustments, including staff and starters.
Defensive coordinator and secondary coach Darrell Burnett helped lead the Hornets to a 10-2 record (6-1 in conference), along with their second straight state semi-final appearance. However, around mid-June, Burnett accepted a head coaching job at Hot Springs High School. About a month later, head coach Buck James found a new man to coach the defense in Quad Sanders.
"I like the knowledge that he has, his experience and his personality," James said of Sanders. "I thought it fit in with our coaching staff."
Sanders previously coached at the University at Monticello, and he played defensive end at the University of Central Arkansas. Sanders transferred to Bryant July 20.
"It's a great organization," Sanders said. "I met [James] a couple years ago while recruiting. When he had the opportunity to [invite me], I came, and I love [Bryant]. It's a great program and it's headed in the right direction."
Senior cornerback, Andrew Hayes, thinks the transition from coach Burnett to coach Sanders has been smooth.
  Gracie Kimbrell
"I think everybody likes to have [Sanders] around, and we go really well with him. The chemistry is already great, so it's been easy."
Hayes has been a starter since his sophomore year and is one of the stars of the Hornets' defense. In Hayes' final season, he looks to take the torch of being a leader from former Hornets.
"[I watched] seniors in front of me over the past years like [Cameron] Vail, Mike Jones and Landon Smith," Hayes said. "I learned from them, and I'm trying to carry on what they did."
Starting alongside Hayes in the secondary is junior cornerback Darrick Rose and senior strong safety Jabin Gulley and junior free safety Tamaurion Wilson. In the trenches will be the duo of senior defensive tackles Kajuan Robinson and Joshua Salgueiro, along with defensive ends junior Austin Bailey and senior Nathaniel Wallace. The linebackers are  seniors Jake Wright, Jakob Neel, and juniors Catrell Wallace and Ahmad Adams. Adams, who originally played running back, was moved to linebacker in the wake of Neel's torn ACL, which he received during the offseason.
Offensively, senior quarterback Ren Hefley is looking to lead the Hornets to another successful season. Hefley has been a starter since his sophomore year and has one goal to end his high school career.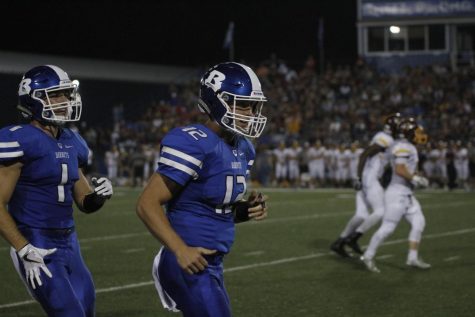 Gracie Kimbrell
"State championship," Hefley said. "That's it."
Looking back on last season, Hefley thinks there is more to be done on the offensive end.
"I think we can be more of a dominating force and more consistent," Hefley said. "We had some good games last year, but most of the games, the defense had to bail us out."
Hefley has multiple options he can utilize in his offense, starting in the backfield with running backs senior Latavion Scott and junior Ahmad Adams.The most prominent force on the offensive side of the trenches will be seniors Clay McElyea, Logan Burton, Jake Burton or junior Tanner Wilson, seniors Blaise Smith and Joshua Stevens or Austin Trimble. Burton, McElyea and Smith are all experienced veterans. The receiving corps has lots of depth. Sophomore River Gregory, junior Jaegar Burks, and senior Joshua Robinson and Grant Botti are the speedy inside receivers. Senior Brandon Jett, and juniors Jake Meaders and Tre'Vun Herron provide a blend of size and speed to the outside receiver positions.
There is depth and experience at every position, and they are looking to achieve the ultimate prizes: a conference and state championship.
"We want to win a conference championship," James said. "That's our number one goal. The number two goal is to make the playoff and make a long run to eventually win the state championship."
The Hornets will begin their pursuit of a state championship Aug. 25, where they will face the Benton Panthers in the annual Salt Bowl at War Memorial Stadium.
"We have to win all three parts of our schedule," James said. "We have the non-conference, conference then the playoff schedule. A long run in the playoffs is good, but playing in and winning a state championship is our ultimate goal."