Being a Bee
Hang on for a minute...we're trying to find some more stories you might like.
As the curtain opens, dozens of people in the audience get their first glimpse of the two-time state champion Honeybee choir Dec. 8. The six high school choirs performed holiday songs in Love Auditorium for their concert.
The choir program has experienced a lot of changes in the past two years. The Advanced Mixed Choir transformed into the Bryant Camerata Chorale, and the Sophomore Select is now called "Bella Voce," which translates to "beautiful voice."
"We've changed choirs, gotten rid of some and made more and changed names and won titles," senior Julia Kovarovic said. "It's been a blur, really."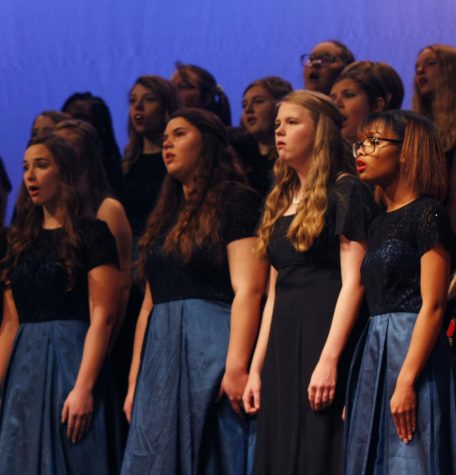 Sydney Boswell
As the leader of the Honeybees, Kovarovic has seen the results of the many changes, which include opening their doors to sophomores for the first time.
"We have the best of the best in here, and we have only improved," Kovarovic said. "This is one of the best groups I think we've ever had."
The choir program has been very influential for her, Kovarovic said.
"It helped me get over my stage fright and taught me how to lead," Kovarovic said. "It's my home away from home. This is where I feel safe and welcome on campus."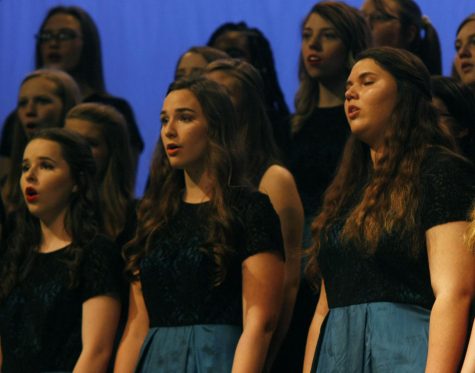 Sydney Boswell
For others, it's the thrill of performing that excites them.
"It was fun for people to see you do something you love," junior Payton Modica said. "My friends came, and it was fun watching them sing along with me and enjoy themselves."
At the end of the concert, the Honeybees have a tradition of bringing kids from the audience to come sing carols on the stage.
"Caroling with the kids was my favorite part," Kovarovic said. "It's a tradition and it's amazing. Some Honeybees stay on stage and kids go up, but some kids are too shy, so Honeybees go out into the audience and sing to them."
Of the whole holiday set, Kovarovic's favorite song to sing is "Oh Holy Night."
"It's another Honeybee tradition," Kovarovic said. "It really unites us and reminds us of everyone who sang before us and how much we affect people with our voices."
Sydney Boswell