TOT Accepts Homecoming Dress Donations
Hang on for a minute...we're trying to find some more stories you might like.
Sifting through a tiny rack bursting with tulle, sequins and ruffles, freshman Kaitlyn Lilly was a bit overwhelmed as she searched for the perfect homecoming dress. With the help of her friends and suggestions from her peers, she was able to find the right fit at no cost whatsoever. Teachers of Tomorrow began collecting donated homecoming dresses two years ago and offers them to any student who needs one, relieving them of the stress and expense of shopping elsewhere.
"It was really fun to be able to pick out a dress," Lilly said. "I felt like a teenage girl, and I could forget all the stresses of school."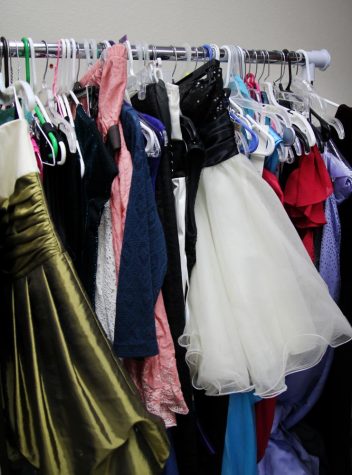 Leading this effort, sophomore Callie McKim hopes to see the dress donations unite the school, including everyone in the celebrations of the student body.
"I think [going to dances] is a great way to break out of your shell and show who you are," McKim said.
McKimsaid that the club has had more dresses donated than ever this year. With such a large selection, Lilly took the advice of others to heart when considering her options.
"I went off of other people's opinions," Lilly said. "They said that purple would be the best dress color for me."
The initial prospect of going to homecoming did not sound too great to Lilly, who would usually rather spend her Saturday night "at home studying or doing homework," but after thinking it over, she decided this was an event she really didn't want to miss.
"I went back and forth between [going]," Lilly said. "Dances [are] not really my thing, but it would be fun to spend some time with my friends."
Lilly may have been hesitant about attending the homecoming dance, but when she thinks about reasons not to go, she said she has to "remember to push [herself] to go."
"[Homecoming] is out of my safe zone," Lilly said. "But you have to get out of your safe zone to be able to explore the world."