"The Crown" Season 1 Review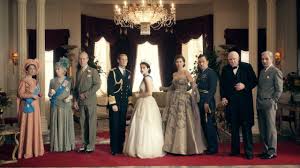 Hang on for a minute...we're trying to find some more stories you might like.
Netflix changed the way people watched their favorite shows when it became popular around 2009. The industry changed the game again in 2013 by producing their first television show, "House of Cards." In 2016, the company did it again with the Netflix original show "The Crown."
This newest show details the path to the crown of Queen Elizabeth II (portrayed by Claire Foy), beginning in the 1950s. It plans to last six seasons and will document her entire reign. "The Crown" boasts attention to detail, with a $130 million budget for production costs.
"The Crown" separates itself from its high-action and drama-filled counterparts, like the TV show "Victoria" about one of Elizabeth's predecessors. By staying true to historical records, "The Crown" trades artificial drama for insight into the royal family's personal life.
The first episode opens with the marriage of Elizabeth to Philip Mountbatten, played by Matt Smith. The wedding is used to start the narrative and introduce several key players, including the graying Winston Churchill on his trail to re-election after a several-year break. The party politics are not hard to discern, making it easy for American viewers to follow.
The first season depicts all the major historical context in the early years of Elizabeth's reign. "The Crown" accurately shows the 1952 London fog incident, the ever-growing anti-British sentiment, and the not-so-favorable personalities of the British elite.
The true test for "The Crown" is if it will continue to hold viewers' interest without scandals occurring every episode. Bottom line is, the series is currently not one of the many binge-worthy shows Netflix is known for.