Bryant Choirs hosts annual Coffeehouse Cabaret
Bryant Choirs' cabaret presented its participants with an opportunity for solo performances while raising money for their All-State Music Conference trip.
Bryant Choirs held their Coffeehouse Cabaret on Thursday, Jan. 19, with the proceeds helping to fund their trip to the All-State Music Conference. The cabaret was a chance for students to practice their solo singing and featured a duo as well, with a total of 15 singers performing.
Junior Bee Golleher began the night with a performance of "Black Velvet" by Alannah Myles. Following Golleher's opening performance, the first and only duet of the night came from Dierra Williams and Janelle Ellison in their rendition of "Little Brown Girl" by Ebony Jenae.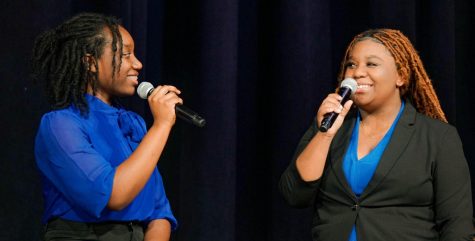 Williams, a junior, initially didn't intend on performing in the cabaret, but the opportunity to spread a personal message convinced her to take to the stage.
"Janelle brought it to me last minute and said 'Hey, we should do 'Little Brown Girl'' and I decided just to do it, because it is a Black artist and it represents Black culture," Williams said. "So I feel like it was a good song to let people know that Black is beautiful, we all come in different shades, and our features are all beautiful."
Despite the short notice, Williams was pleased with how her performance went.  
"It was pretty fun up there on stage," Williams said. "The crowd loved it, it was really good."
Williams wasn't the only singer performing on short notice. Senior Maegan Hall, vice president of the student leadership team for the choir program, was only given a few hours to prepare her second song; "Satisfied" from the play "Hamilton."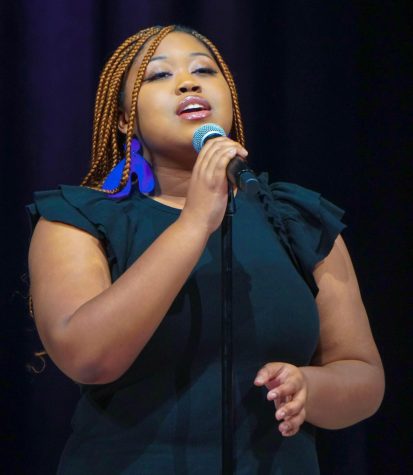 "I was already singing one song, but then Mr. O asked me to sing a second song at the very last minute. And by the very last minute, I mean a couple hours before, so definitely a little nervous for that one, but I pulled through and I think it sounded good," Hall said. 
Hall also performed "Turning Tables" by Adele. Junior Jonny Rolen followed Hall with a performance of "Portrait of my Love" by Matt Monro.
"I really enjoy singing and I thought it would be a great opportunity to showcase a song for the choir family," Rolen said on why he decided to perform. "Walking to the stage, I told Mr. O 'I'm excited to perform.'"
Rolen's performance earned a standing ovation from the crowd, but it wasn't just the audience excited about his performance.
"I loved everyone's performance," Williams said. "I was turning up backstage. We were hollering for everybody."
The excitement of the choir students for one another demonstrates their bond as friends in the organization. 
"Everyone's friendly toward each other," Rolen said about the choir environment. "I like it, I enjoy coming to choir every day because you can talk to everyone."
Bryant's choir program surpasses just vocal instruction; it has impacted many singers in their day to day lives. 
"It definitely helped me get out of my comfort zone," Williams said. "Since I've gotten here, I've been trying out for solos and performing in front of people, which I never did."
For Hall, choir has given her the opportunity to use her status as vice president within the program to further her leadership and collaboration abilities. 
"It helped me to definitely collaborate with others. For most of my life, I was used to singing more solo pieces, but then once I got into choir, I definitely developed a love for singing with others," Hall said. "It's also helped me develop my leadership skills. I'm on the Bryant Choirs leadership team, and there's a lot of responsibility in that and it's really fun."
Ogelsby's choir has grown very successful, winning four Best In Class state titles at last year's state festival. However, the success of the program isn't what draws most students into it. 
"I've been singing since I came out of the womb, so singing has definitely been my passion. I was like, 'Why not just do something with the gift that God gave me.' So I decided to join choir, and I fell in love with it," Williams said.
Rolen shared a similar story. 
"When I was a kid I would sing all the time. I was in the first grade talent show, and I was singing songs. I always sang," Rolen said. 
Rolen's performance at the cabaret reminded him of why he has been in love with singing since his childhood.
"I was very happy about the reaction from everyone after, when they came up to me. I like that I can make people happy by singing a song. I really appreciate that."