How the Spanish Honor Society Wants to Make a Difference This Year
Spanish Honor Society's new survey will monitor the progress of Hispanic students feeling more welcome, comfortable, and accepted at Bryant High School.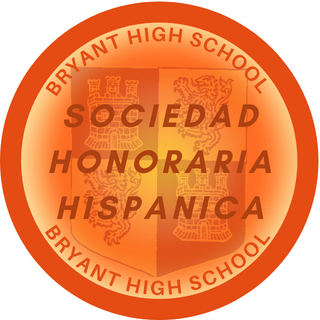 As the Sociedad Honoraria Hispánica (Spanish Honor Society) enters a new school year, the Bryant chapter of the national society has begun to commit to improve upon its mission: To assist, celebrate, and bring community to the Hispanic students of Bryant High School. 
The Sociedad Honoraria Hispánica Members' first steps of satisfying this mission begins with a survey. This survey was developed to analyze the current needs and concerns of Hispanic students. 
Jessica Wilson, the sponsor of Sociedad Honoraria Hispánica, along with Daniel Bracho, feels that it's important for Hispanic students to feel welcome in our school.
"I lived in Seville for a period of time, and being on the opposite side where you're suddenly in the language minority is a very humbling experience," Wilson said. "I was 19, or 20 years old, and these kids are 14, 15, 16."
Despite this being Wilson's first year teaching at BHS, she has already dedicated herself to the school and making sure every student feels comfortable and accepted. 
"Advocacy is my job," Wilson said. "Like, yes, I teach Spanish, but also, my job is to be as student-centered as possible. Teacher-centered classrooms aren't student-centered spaces."
For Wilson, creating these student-centered spaces for our Hispanic students starts with this survey. Many of the survey's questions involve the student's comfortability with technology. 
"iPads, and tablets, and Chromebooks, that's new technology for a lot of students," Amy Oury, the ELL counselor, said. 
According to the survey, when asked to rate on a scale of 1 to 5 how comfortable they were with HAC, Gmail, and iPads, 42% of the 101 participants answered below 4. 
Though technology is a concern for Spanish-speaking students, communication and socializing can also prove difficult due to language barriers and culture differences. In the survey, 36% of the participants reported that they did not feel included in Bryant social activities.
When asked if she believed Hispanic students, especially those without English as their first language, felt excluded from the rest of the Bryant student body, Oury immediately nodded, adding that they've told her they felt this way. 
"The students who speak absolutely no English are intimidated by the kids who speak no Spanish. That's not surprising. The kids who speak no Spanish are intimidated by the kids who speak no English, so it's both ways."
However, Oury believes this mutual intimidation can be dissolved by taking a bold, but simple step: initiating conversation. 
"It could be as simple as saying 'Hello' and smiling," Oury said. 
The Bryant High School ESL Coordinator, Vicki Hale, also believes that communicating with each other will help these students feel more welcome. 
"I think they feel included, especially when students make an effort to speak to them in their own language," Hale said. 
While the survey has goals to help Hispanic students feel more welcome and heard, the questionnaire is only the beginning of what the Sociedad Honoraria Hispanica is planning.
"[The members of the Sociedad Honoraria Hispánica] talked about creating a Spanish Hub," Wilson said, referring to a completely translated document of the Bryant Student Hub. 
The Student Hub features important information on everything a student might need, such as schedules, tutoring, college assistance and scholarships. By translating this document into Spanish, it would be more accessible to Bryant Spanish-speaking students. Because the Student Hub is a large forum, this is a large project they plan to work on throughout the school year. 
Additionally, the Sociedad Honoraria Hispánica will create new ways for Hispanic students and parents to stay informed. 
"We're also looking at finding ways to mass message Spanish speakers," Wilson said. "So, having a student Remind group and then a parent Remind group where we can send out information entirely in Spanish [will] be helpful to them. There's a lot on our radar this year."