The Concert Fanatics of Bryant
Students spend hundreds to see their favorite artists
When musician Harry Styles came to Simmons Bank Arena in North Little Rock, he performed to a sold-out crowd of 17,000 people, making it the biggest concert the arena has seen since the pandemic began. Fans paid thousands of dollars to see him perform and some even drove multiple hours. 
Other artists such as Taylor Swift, Elton John and Twenty One Pilots have also performed at Simmons Bank Arena, attracting similar crowd sizes and people all across the country. Junior Olivia Sharp is one of the many who saved up hundreds to see her favorite artists, her first concert being Taylor Swift which began her love for live performances. 
    "I was honestly in shock when I saw Taylor Swift so it didn't feel real at all the entire time," Sharp said. "Since then I've seen Bruno Mars, Panic, at the Disco, Twenty One Pilots twice, Mother Mother, Tyler, the Creator, Fall Out Boy and Imagine Dragons."
    Sharp has found concert experiences to be life changing and extraordinary and is saving up to go see Coldplay, The Killers and even another Twenty One Pilots show.
    "It's educational," Sharp said. "It's something that you can look back on and think about. Twenty One Pilots' music is about mental health and listening to them would get me out of rough times so being able to hear it live was definitely emotional for me." 
    Senior Shelby Loftis, who has seen her favorite musician, Harry Styles twice, also describes concerts as an emotional experience.
    "Harry's concert introduction is incredible and it makes you feel like you really know him because he tries to include everyone," Loftis said. "It feels like you're on this high the entire time. I cried so much because I was overwhelmed with emotions. As soon as he came out on stage and everyone started cheering and playing, I cried so much. It's so pretty and euphoric."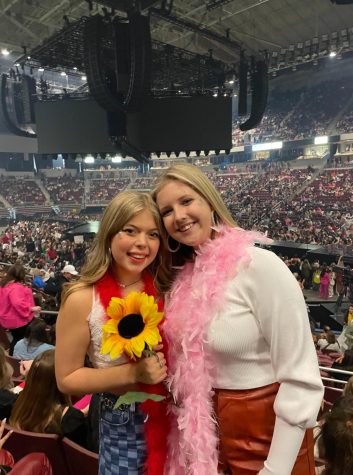 Loftis also drove to see Louis Tomlinson in Nashville and waited in line for 11 hours to be seated in the pit section.
    "I was standing there all day," Loftis said. "But I made friends with the people around me. Those are going to be lifelong friends now. They live in a hundred different places but we took pictures, got each other's phone numbers and we ordered pizza for each other and they were ages 15-30. It was incredible. I stuck with them the rest of the concert."
    Since she attended her first concert this year, Loftis has purchased tickets to 5 Seconds of Summer and Phoebe Bridgers and plans to see many more shows. 
    "A concert is just a completely different feeling," Loftis said. "In your day to day life, you don't get the time to let loose. At shows, you're able to dance with your friends, have the time of your life and be in the room with someone you've looked up to for such a long time. I've never done anything that's made me happier. Concerts open your eyes to how beautiful life actually is."