It Started With A Dream
Metaphysical store in Bryant gains popularity among community
Located at 210 N Reynolds, Strange Magic Gems has become a hot spot for many interested in the various items known for their metaphysical store. 83-year-old Rose Spell and her daughter Jackie Metz opened the store around 2 years ago, at the beginning of the COVID-19 pandemic in March 2020. 
"We are a mother and daughter team. We opened the store as our main hobby, the love of the rocks, and it was so interesting [that] we decided to do it as a business. That's how we got started, through the love of the nature," Spell said.
Spell said that their business began when Metz moved to Arkansas when she was in her 30s. The pair went to Mystic Mines, which is no longer in business.
"We would come and mine the crystals, and that was probably about 40 years ago. I purchased a box of crystals and I went back home in Louisiana," Spell said. "I was going to sell a lot of crystals in my little store. Well, when I got home, I looked at them and I decided I'm not giving up my crystals. I have had those things with me for 40 years."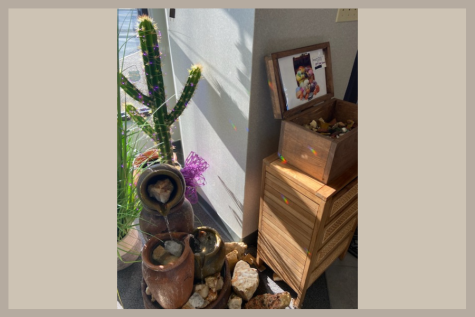 Spell then moved to Arkansas to be back with Metz due to her own health. She then decided that it was time to sell her prized crystals.
"One morning, I got up and I had a dream the night before that we had opened a rock store," Spell said. "I said 'Jackie, we opened a rock shop' [and] she said 'well let's do it' and by that night we were incorporated. Our first items were the crystals."
Spell and Metz are in their second year of business at their physical location.
"We had started online as an online business and then we brought it into this [store]," Metz said.
Metz is a crystal practitioner, which is a person who focuses on all things healing-related through the use of crystals.
"I took the course with Hibiscus Moon. [The teacher] was a science teacher and then became a crystal geologist, and she has so much information on rocks. I still listen to her courses online every day," Metz said. "She talked about all the different stones and how they're categorized and the molecular structure of each rock. [There is] so much to learn about Mother Earth and her crystal[s] and the core of the earth with the big crystal down there, it's just very interesting."
Metz also said that she had to practice on multiple patients with rock therapy to earn her certification, however, she says that she does not pursue that path much anymore.
Spell is a reiki master, which is a person who manifests the will of divine energy on Earth. Reiki masters can also teach others the art of Reiki, which usually deals with helping a person see the life force energy that flows through them.
"We heal through the spirit, we all have our organic body, but we are a spirit that never dies. We are a spirit, and so we line up with the chakras (spiritual power in the body), we take the energy centers to Mother Earth and we line all of them up by allowing your spirit to be healed," Spell said.
Both Spell and Metz have their own personal touches in the business.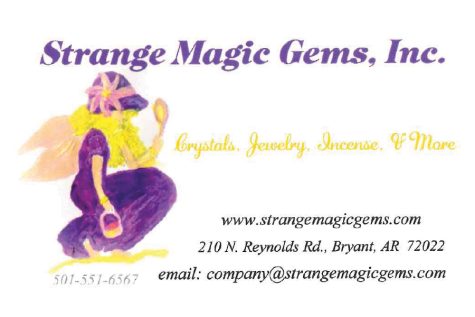 "The fairy on our business card mom [Spell] painted," Metz said. "She's an artist, so she draws and paints and that's her original fairy."
Spell and Metz say that their store has a variety of around 80 tumble stones, rough stones, incense and more. 
"We buy natural rocks that we feel the energy [of], and we try to have a large assortment so that everybody can have what they like out of the rocks. But, if we would have an item that we don't carry and the customer's interested, we try to get it in store," Spell said. "We always listen to our customers when they show their concerns with everything they would like."
Spell and Metz are constantly trying to bring in new items to the store and restock. They also say that if they have a piece of jewelry that a customer would like, but they do not see it in store, they can specially wrap a stone for them upon request.
"A lot of our jewelry is made by us, and it is made with all natural stones so when you buy a piece of jewelry you get a stone as well with that vibration so you can enjoy that," Spell said.
Spell then went into detail about the vibrations that come from the stones.
"Everything on Mother Earth has its own vibration. It has its own energy level and so every little rock has its own little energy level. We just kinda live among this wonderful energy in life," Spell said.
One of Spell's personal favorite stones is opalite. Spell addressed the variety of stones and the connections that people may have to specific ones.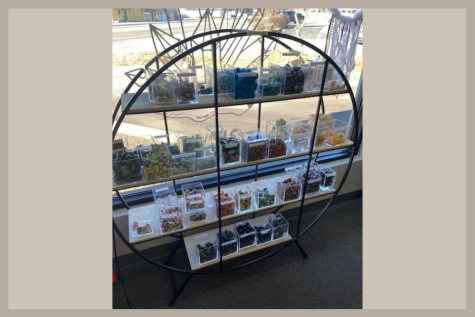 "Everybody probably does [have that connection] and you'll have a special stone that speaks to you today and tomorrow you may have a different one," Spell said.
The pair also expressed that there is always a constant cycle of stones that are important for different times in a person's daily life.

"Today you might need the amethyst, but maybe the amethyst did what you needed so you don't need it anymore, and you may be interested in a different rock that could offer you something, so it's always changing but you can always have your favorites- I think mine is rose quartz."
Spell and Metz both believe that their store is unique and unlike anything else around.
"I don't know if there is a store identical to this because we don't just sell rocks and everything, we sell a spirit. And to say that you'll come in and just buy a rock, there's always more to it," Spell said.
The store's very first customer was the high school's very own art teacher, Amber Cardinale. Spell and Metz both agree that with the continued support of the community, they are eager to grow.
"[The store] might grow into something later, or something bigger," Metz said. "We're thinking maybe because of the response about how everybody likes it that it's a big possibility and maybe expand [the] side where we have that drive through- that's our goal."
Spell and Metz expressed their joy that they receive from their customers coming in the store.
"We want it to be fun. We want when people come in to be able to relax and feel the energy of the rocks, and just to go home with a good happy feeling, that's all," Spell said.
Strange Magic Gems can be found online at this link: https://strangemagicgems.com
"Every day we get new customers that have been referred to us and it has been a great joy to serve this community because they have been so open, especially the younger people who have come in, they've even brought their grandparents and parents," Rose said. "It's just been a whole lot of fun to see the little children look at the rocks or to see somebody appreciate a rock and just to feel this energy and to love the rock, so our goal is just to make the whole world happy, or just a small part at least."