Stepping To New Beginnings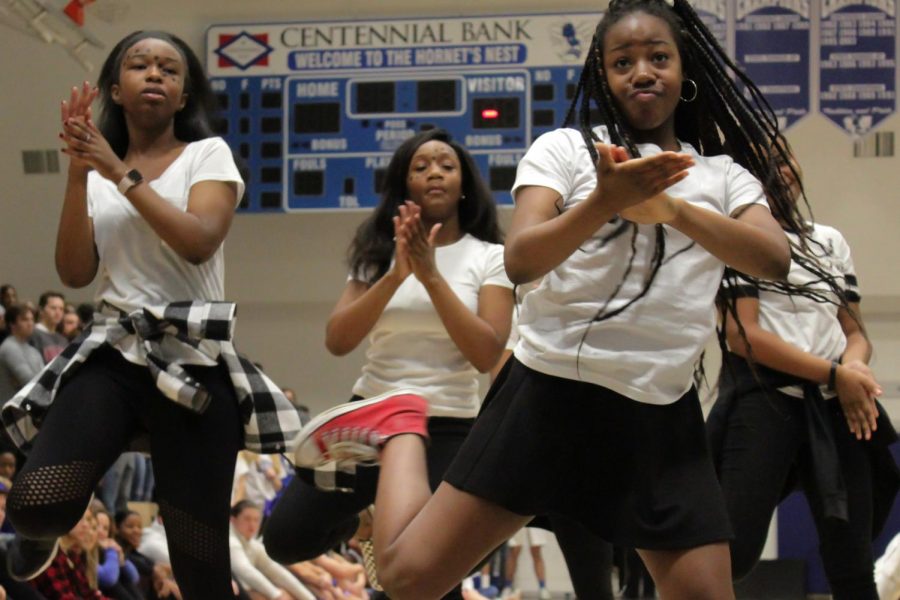 Standing in front of the entire school for the very first time, the group takes in their surroundings. The gym is crowded with students holding signs, cheering them on. They bow their heads in a circle and say their quick prayers and fill the gym with heir chant.
"What we gon' do, what we gon' do? Step."
"How we gon step, how we gon step? Hard."
As they get in position, everyone waits nervously for their performance to begin. Loud claps and stomps echo through the gym as the crowd goes wild. Although it's their first performance, the BHS Step Club knew they made their mark at the pep rally Nov. 2.
Step is a form of dancing using body movement to create beats and rhythms. It is based on a long, rich tradition in African communities.
In the United States, step started as an organization in colleges. Few high schools have had success in forming  step clubs; however, students have made it a reality h
Forming the step club took officers a lot of time and dedication. While it just became well-known this year, the club was actually formed last year. The first year starting out was a struggle for sophomore Keshanti Pennington and her co-officers, because they were having trouble finding people to join.
"We decided to form this club so we can have a new experience for people at the school,something different and original that we can all have and just come together and have fun doing it," Pennington said. "After lots of dedication we finally found people interested, and we finally got it going."
Although step started out in African communities, Bryant's step club is inclusive to all. They make sure to advocate that all minorities, races and genders are welcome.
"We are all like a family," Pennington said. "We don't try to hold anyone back or count anyone out. We accept everyone no matter if you're black or white, or male or female."
Step club prepares for pep rallies and other performances every week. While they are considered a club, they meet more often than most clubs. The president and officers meet on Tuesdays after school, and the whole club meets  on Thursday for practice. Despite all their hard work, members, including sophomore Chrisanne Powell, still get nerves.
"Performing in front of the school feels nerve-wracking at times, because we are a new addition to the school, and the reactions of our classmates and teachers and administration matter," Powell said. "Since we have performed multiple times, that feeling has lessened and now it feels more like a tradition."
Pep rallies are typically for upperclassmen only, but freshman Forrest Pattison III gets to perform with his team. Having no one from his grade there to watch is sometimes nerve-wracking for him.
"I was a little scared at first, but when the music started I was ready to dance," Pattison III said.
Step club has  23 members currently, but they are looking to expand.
"We most definitely plan on continuing next year, and hopefully even more people will join," Pennington said.
About the Contributor
Rhea Patel, Writer
Rhea Patel is a second year staff writer for the Prospective Newspaper at Bryant High School. She enjoys traveling the world, taking hikes and eating lots...