Defending Dreamers
The signs read, "DREAMers are Americans," "Education not Deportation" and "I stand with DREAMers." Passing cars honked in agreement. People from around the state gathered at Little Rock Central High School to march to the state capitol to protest the recent threats to the Deferred Action for Childhood Arrivals (DACA) under the Trump administration Sept. 16.
DACA was implemented under the Obama administration in 2012 to protect undocumented immigrants who were brought to the U.S. as children. To be eligible, applicants must have been under 16 when they arrived. DACA allows them to obtain driver's licenses but does not give them a free path to citizenship.
The Arkansas United Community Coalition organized the march in Little Rock to protest President Trump overturning the act. DACA currently protects over 800,000 people.
"DACA is important, and it upset me when I heard Trump was taking it away," sophomore Jewell Regan said. "We are losing doctors, lawyers, and everyday people. So that is what made me want to go march for their right to stay in America."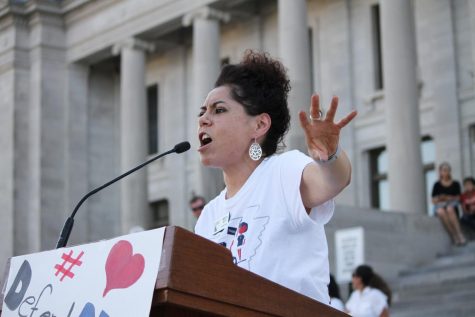 The Young Democrats club met on Fri., Sept. 15 to paint signs supporting DACA. The group had 10 members attend the rally.
"As teenagers ourselves, we know that it's hard to come to every meeting and event, but we always encourage making an effort to come in and make a difference in our schools and community," Regan said.
People started arriving at approximately 3:30 p.m., but the rally did not begin until an hour later, which left time for people like senior Jalen Sparks to mingle with the crowd.
"The most interesting person I met was this girl that graduated and she was wearing this hat that said, "My mom crossed the border so that I could cross the stage," Sparks said. "Listening to her story about how much her mom went through just so she could have a better future and more opportunities was amazing. I could never even imagine having to go through that, and then worrying about the president trying to literally tear everything apart."
Sparks felt that the march "brought people together" and "put their differences away to fight for people's rights."
"That's what will help society." Sparks said. "It takes everyone, no matter what race or background, to just come together and learn to put our differences aside and just love one another. We don't have to ignore our differences, just accept them."