Beauty and the Beast Orchestra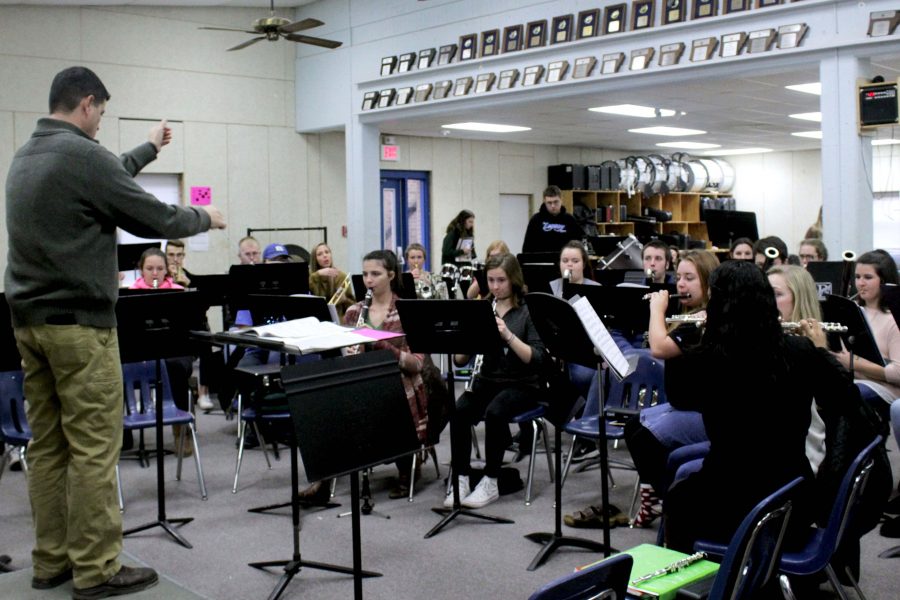 Julia Nall, Print Editor
January 11, 2017
Theater and band will merge for the first time during the spring production of the Disney classic, "Beauty and the Beast." Instead of using recorded music, as they have done in the past, the musical crew will instead use a select group of Wind Ensemble musicians for live, "pit orchestra" style music.
The ensemble will not be a true pit orchestra. It lacks string players and will play in a separate room rather than in a theater pit, as Love Auditorium does not have room for one.
"The pit orchestra that is lined up to provide live music for 'Beauty and the Beast' this spring is a wonderful idea to improve the quality of the production," senior John Mark Junkins said. "However, the mode in which the orchestra is being applied will lend itself to various struggles along the process of rehearsals."
Junkins, a french horn player in Wind Ensemble, will not be performing in the pit. Instead, he will be on stage as Maurice, Belle's father in the musical. As somebody experienced with both musical theater (he played the Foreman in the 2015 production of "Les Misérables" and Elisha Whitney in 2016's production of "Anything Goes") and musical performance, Junkins has concerns about how live music will alter the traditional structure of the production.
"During runthrough rehearsals, the conductor takes charge of cuing everything within the show, from scene changes to songs, and even character entrances," Junkins said. "This change in cuing from the director to the orchestra conductor will take some getting used to as well."
Junior Gabby Stewart is also experienced in both musical theater and performance, as a member of Wind Ensemble and a performer in last year's spring musical. However, Stewart decided to play in the pit rather than perform in the show this year.
"I think it is good to get more people involved with productions like this, but I think there are now more opportunities for disasters," Stewart said. "If we get off tempo or mess up a note or something, it could potentially mess up a lot for the actors. I like the idea of the pit orchestra and I'm excited for it, but I'm also not one-hundred percent sold that it is what is best for this show."
According to Stewart, the pit will practice a total of about 60 hours over the next two months, both with and without the cast of the production.
"It's a lot of hours and it takes a lot of commitment but that's what it takes for it to be good considering there is one or two people per part," senior and pit orchestra flutist Kaylee Rawls said.
Despite the challenges to overcome, musical ensemble member senior Allie Studdard is optimistic.
"I am thrilled to finally be able to have a live orchestra for our spring musical," Studdard said. "I have never been in band or played any instrument seriously, so I can't say that I know how much work is going to be put into this show by the orchestra members, but do know that our band is amazing and hard working and I can't wait to see what they have in store for us."