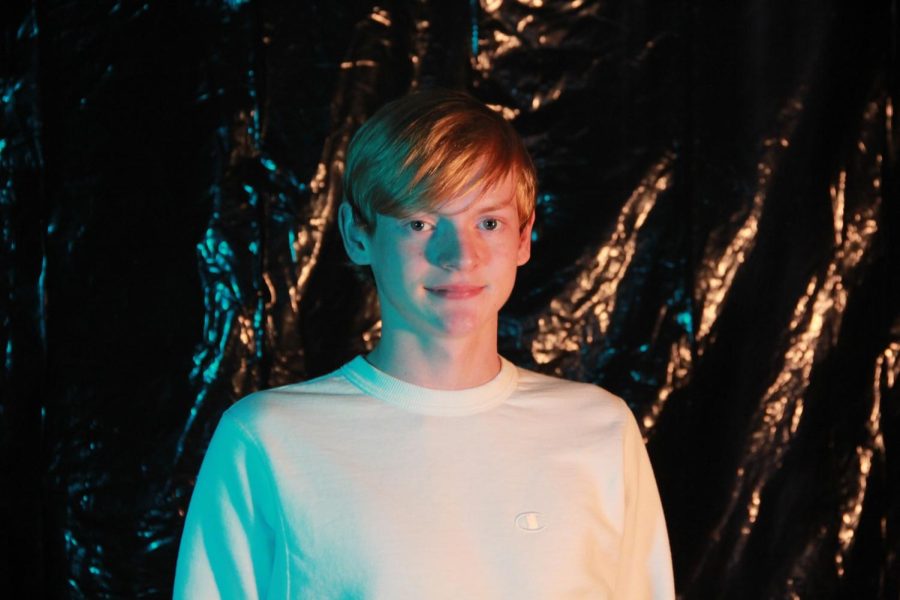 Samuel Forst
If you ever need to find junior Ethan Eubanks, you'll probably find him at Bishop Park's swimming pool. Eubanks is a serious swimmer and practices 8 to 9 hours in a week, 2.5 hours each day during the competitive season and 1.5 hours a day during his off season. 
"Swim is a part of my life now for sure," Eubanks said. "It's something that I think about every single day and that's how I would define myself as an athlete."
Eubanks spends his free time when he is not at the pool working out at other places. He stays disciplined to ensure he is becoming a better swimmer.
"Sometimes, there are days where I'm too tired, but normally [I say] 'I'm just gonna do it" because I can go eat afterwards," Eubanks said. 
Eubanks is so determined to get better times on his events to where he is willing to put in the extra effort to do so.
"If I need to stay after practice, I'll stay and work on it," Eubanks said. 
Eubanks began the road to swimming when he was in the 5th grade.
"My mom always told me that she didn't know how to swim so she wanted to make sure we knew," Eubanks said.
Eubanks said that he had quit swimming soon after but returned back after his 8th grade year since he enjoyed it so much.
"Freshman year of swimming, I sucked," Eubanks said. "I was horrible and even in middle school when I did sports I was not good at all. I was never really happy with myself and I always wanted to be better but I just never had the work ethic to do it."
Eubanks said that once COVID-19 pandemic had started, his position as an athlete changed.
"I just had time at home and I realized that I can just start putting in the work, so I really just started working," Eubanks said. "My motivation is just to be the best and to just keep improving no matter what and to really just push through everything. No matter how I'm feeling I always work hard and I always come with the attitude to work hard."
Eubanks is also involved in another competitive swim group outside of school, called Bass.
He spends even more time at the pool because of his job as a lifeguard, too.
"I started lifeguarding June of 2021," Eubanks said. "It's honestly very fun because first off [there's a] free membership to the pool, so I can come in whenever. I've also been able to meet a lot of pretty good people and I've gotten on a first name basis with a lot of patrons. I've gotten insight on how other people see life, and a few of my swimmer friends do lifeguarding [too]."
Despite the competitive season for the year being over, Eubanks still looks forward to the future and his plans for the upcoming months as an athlete.
"This summer, they're hosting the Junior Olympics in Greensboro, North Carolina," Eubanks said. "I've already qualified for two events and I'm trying to get some more. I am super excited for [competing] because in Junior Olympics, they treat you like an olympic athlete and the medals [look like the ones] from the Olympics. I'm gonna work everything I've got to try and get one of those."
Coming up after the summer, Eubanks looks forward to his last season with Bryant.
"[We're] just trying to break more records, we're really close to another record in the 200 medley relay," Eubanks said. "I'll be there next year to get it."
Eubanks says that the 200 medley relay is his favorite event.
"It's the first event of the meet other than diving and it's just so cool because everyone swims one of each stroke, you get the four best people in that stroke on your team and you're all together swimming and it's just super cool to watch," Eubanks said. "It's a really nice way to start off the meet."
Eubanks also says that the 100 freestyle is another favorite.
"The 100 freestyle's been really good to me, I guess I've just figured it out this season. At the start of the season, mine was over a minute and now it's a 54.78," Eubanks said.
At the 2022 State Swim and Dive meet in Bentonville, Eubanks, along with senior Samuel Vincent, junior Eli Matthews and sophomore Jase Gladden beat the school record for the 100 freestyle relay by a little over a second.
"I was really happy to get that for Samuel Vincent. It was his last race [ever], so we got it for him and he really stepped up and he was the one who anchored and got our relay," Eubanks said. "We had to do it to them."
Eubanks has made the sport unique to himself and has gained a lot from his experiences overall.
"Swim is something that is special to me and it's something that I can feel as my own thing," Eubanks said. "I took inspiration from my older brothers because both of my older brothers did competitive swim and I made it a challenge to try and beat my oldest brother. The only event that I'm not faster than him in is the 50 freestyle, so I'm gonna get it."
"It's been a grind from freshman year to now, because I started out not knowing what I was doing, and now it's literally a part of my life so definitely a lot changed."