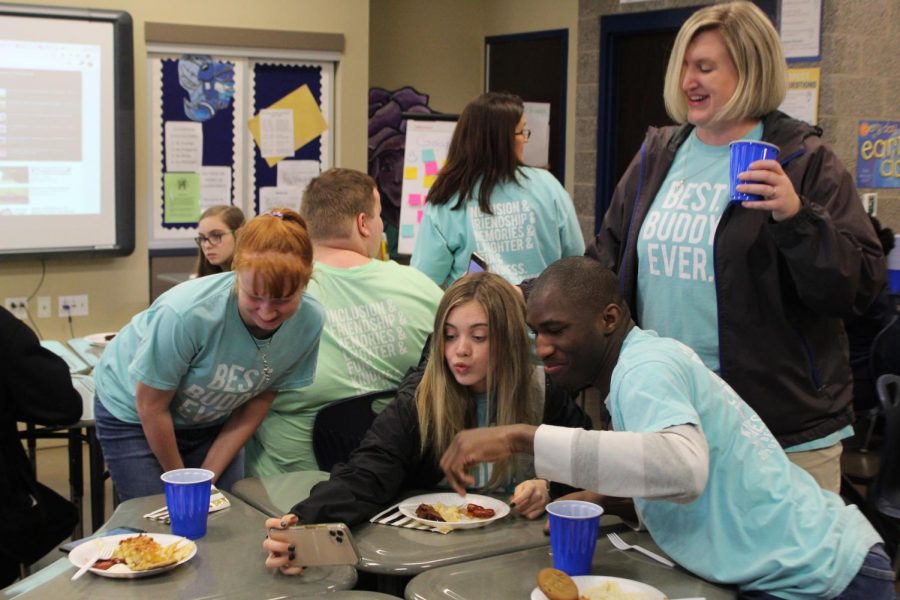 Jord
First found in written form on a 2007 tweet, the term "Friendsgiving" is believed to have originated from Twitter and progressively spread to other social media platforms through comments and hashtags. Others argue that it developed from a Thanksgiving episode of  "Friends" in 1994, or from an ad campaign promoted by Bailey's Irish Cream, "Friendsgiving with Baileys," in 2011. Despite its debated origins, Friendsgiving has become an integrated part of the holidays.
Out of 110 surveyed students, 69.5 percent celebrate Friendsgiving, the majority celebrating before Thanksgiving. Many gather with their peers, bringing food, games and gifts to celebrate all they are thankful for, including each other.
Junior Shanti Adair typically celebrates Thanksgiving with both friends and close family,  but because her parents planned to return home to Ireland, this year was one for friends and siblings.
"I'll do [Friendsgiving] with my youth group friends [from] Indian Springs Baptist Church, and we'll eat a lot of food together and watch Christmas movies," Adair said. "My older brothers and sister-in-law also [came], so it's more like sibling-giving this year."
Although she values time with her friends, Adair prefers time with her family and remains nostalgic for her family and home in Ireland.
"I love being with my friends and appreciating them, but I like having all of my family together," Adair said. "Thanksgiving in Ireland is almost bigger than here in Arkansas, because all my extended family lives there. There's so many people, and my grandma makes so much food; it's so good. Because my mom's American, they've celebrated it ever since my dad married her." 
Spending the majority of her Thanksgiving break with friends, sophomore Stephanie Anderson believes Friendsgiving is essential to the holiday's celebrations.
"My parents are divorced, and we aren't really close, so we don't do much other than go out to eat," Anderson said. "But I have several Friendsgivings with my friends throughout Thanksgiving week. I go up to the UALR college campus to celebrate with my college friends that have known me since I was a baby. Kayla is a sophomore and Alex is a junior. Our mothers are friends, so they've known me forever."
After celebrating with her college friends, Anderson spends more time with another close friend.
"I'll go over to Gabi's house, where we do Romanian traditions, because she's Romanian, and make pasta noodles and everything by hand," Anderson said. "We'll put in all this hard work making all the food and make a huge feast. Afterwards, we'll let the kids play and then go out in the living room, talk, share stories and say what we're thankful for."
English teacher Dana Curry sponsors the Best Buddies club and provided a chance for its members to engage in their own Friendsgiving during Buzz Time. Students brought food and gathered to watch movies, eat and spend time with one another.
"Friendsgiving is an opportunity for our Best Buddies club to get together, for the buddies and their peer mentors to have a fun activity where everyone can bring things so we can have a party-like meal," Curry said. "It's an opportunity for students who don't get to see things around the entire Bryant High School campus to get out and engage with some of these other students, and it's a great opportunity for their peer mentors to have an act of service."
Senior McClinton Bush values the club and the friends he makes through Friendsgiving.
"We just get to talk, have some fun and watch movies," Bush said. "You get to see what [your buddy is] like and ask them questions, and just do what normal friends do," Bush said. "You never know when you might leave and never see your friends again, so spend time with your friends and family."
Curry's primary goal in hosting the club's Friendsgiving was for the students to remember that they are cared for and loved in a fun and welcoming environment.
"[Friendsgiving] just shows how important all of these relationships are," Curry said. 
This copy originally appeared in the December 17, 2019 print edition.