New Opportunities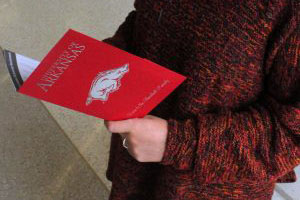 Hang on for a minute...we're trying to find some more stories you might like.
I checked my hair in the reflection of the microwave for the fifth time. I knew that it was time to go. The butterflies danced in my belly as my mother and I pulled out of the driveway at 4:45 p.m. Oct. 25. We were on our way to the University Of Arkansas for my first college visit ever.
My expectations were high.
Everyone I asked about the college told me how amazing the campus and student life is there. I wanted my visit to be all the hype and glamour people described it to be.
Looking at the dusk-filled sky, I started to imagine what the home of the Razorbacks would feel like. Would I feel the sense of home I truly desired?
After getting turned around twice, we finally arrived at Hunt Hall for our tour.
My first thought was, "Holy crap, this place is gorgeous."
As our tour guide Emily showed us around, my feelings of excitement grew, and I began to picture myself in a hammock under the trees or studying in the library for hours during midterms. However, I also realized there was one thing I'd be missing at college: my mom.
My mom is number one supporter, and I wish I could pack her into my suitcase whenever I move to college.
Throughout the car ride home, my mom and I chatted about everything that has happened the past couple of weeks, such as band practices and funny things my friends did that we just haven't had time to talk about.
When I go to Chicago and visit my dad for half the summer, my mom and I don't see each other for a while, but it doesn't take a toll on our relationship. In fact, I believe it makes us closer whenever we meet again.
I realized that wherever I go, I know my mom will always support me because that is the type of relationship we have. Having her there with me during my college visit made Fayetteville feel more like home.